The Boone Fire Department responded to a call about a fire at 619 Junaluska Road at 3:20 a.m. on Tuesday.
When the department arrived at the scene the house was fully enveloped. Fire Marshal Mike Teague said that the house was totally destroyed.
Witnesses of the fire said that they were told by officials that the fire was currently under investigation due to the burn pattern. The witnesses were also told that the fire was not natural.
"The fire is suspicious and is currently under investigation by Boone PD working conjointly with Boone Fire." Teague said.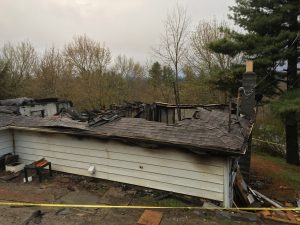 The fire was called in by DeLaney Flatford, a senior communications major and a resident of the neighboring house, at 3:15 a.m.. Flatford said that the department arrived 10 minutes later.
"I woke up to my roommate yelling and I looked out the window and all I could see was the end of our driveway and a huge fire," Flatford said via email. "It was really scary and it is something I did not think I would ever experience."
Flatford and her roommate, Cassidy DeHart, a senior health promotion major, were told to leave their house by the 911 dispatcher.
Teague said that the fire was under control in around 15 minutes, and that it took firefighters on scene several hours to put out hotspots.
DeHart said that the fire was finally put out around 5:30 a.m., and that the department left the scene some time around 7:00 a.m, but returned later in the day to clean up the scene and investigate it.
"When we tell you that the house was completely engulfed by the time we called 911, it was completely engulfed in flames and nobody had called until we did," DeHart said. "How did nobody pick up on the fact that this house burning bright, it lit our rooms up orange."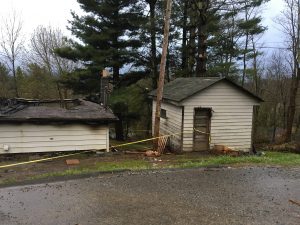 DeHart and Flatford said that they were told that the fire was currently under investigation, that the burn pattern was suspicious and that the fire was not natural. The women were interviewed by fire officials on Wednesday.
Candace Peck, a detective in the Criminal Investigations Division, is leading the investigation into the fire.
No other properties were damaged by the fire except for a shed that was adjacent to the house. There was no one in the house at the time of the fire, according to fire officials.
The property is currently owned by Ronnie Douglas Whittington and his wife Joyce Whittington, both residents of Nashville.
More information about the fire will be available in the coming weeks as the investigation continues.
Story and photos by: Q Russell, Opinion Editor
Featured photo caption: "All that remains of 619 Junaluska Road as seen from the road."