Boone in Blossom brings first vibes of summer to festivalgoers from the area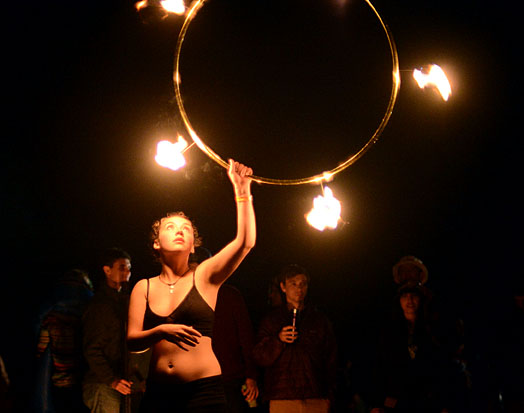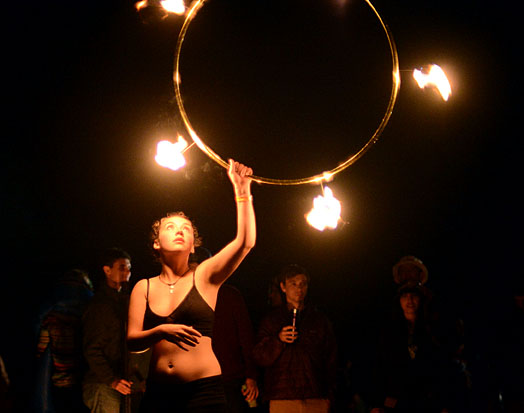 As summer festival season kicks off nation-wide with Coachella in California, Boone saluted the dawn of summer weather in its own way.
The fifth biannual Boone in Blossom music and arts festival, though a fraction of the size of Coachella, attracted 470 attendees who listened to live music at the main stage, participated in various workshops and wandered the transformed High Country Fairgrounds.
Musical headliners included singer Carly Taich and Boone-based bands Supatight, Donnie Dies and Cici & the Coronas Friday and Saturday night.
Boone residents and area business owners held workshops about partner yoga, worm composting, hula, the "birthing revolution" and herbal medicine on the main stage and festival grounds throughout the weekend. Chanting and "static dancing" circles were led by festival organizers as well throughout the weekend.
Festivalgoers had the option to camp out and there were specific areas set up for families and general camping.
"There's room to wander around," said Christie Horowski, a sophomore sustainable development major. "You can do whatever you want to do; hooping, dancing, yoga, anything."
Horowski led a fire hooping demonstration Saturday night with a hula-hoop she made herself.
Area businesses, artists and craftspeople joined the fun and many brought goods with them to sell to festivalgoers.
A new food truck, Vitality, debuted its vegetarian and vegan fare at the festival.
Debi Golembieski, who owns and operates Green Mother Goods on King Street, created the Vitality food truck and came to the festival to oversee its debut.
"I'm really excited to be here and to be a part of this," she said. "It's been a lovely fair. Good music, good people."
Junior sociology major Erika Guerrero works at Green Mother Goods with Golembieski and came to the festival to help with the food truck debut.
The festival really brought the community together, Guerrero said.
As is customary for events in Boone, in addition to the relaxed vibe and good music, keeping things local was a big theme for Boone in Blossom.
"I get the spirit of it," said Elizabeth Penick, an Appalachian alumna. "Why buy something 1,000 miles away when you can buy it right here?"
Penick volunteered with the festival organizers and described the experience as being "really fun."
Shane Margeson, the founding member of the High Country Poetry Society, said the event was the blossoming of the community
"What's great about this type of event is we can just hop onstage with one mic and perform," Margeson said. "We did a lot between musical sets, while groups were setting up backstage."
Story: EMMA SPECKMAN, A&E Reporter
Photo: OLIVIA WILKES, Senior Photographer