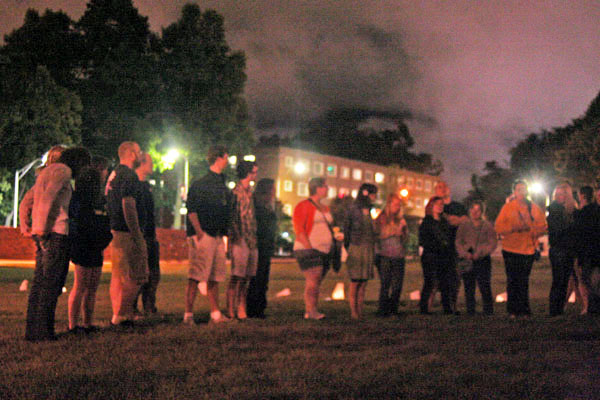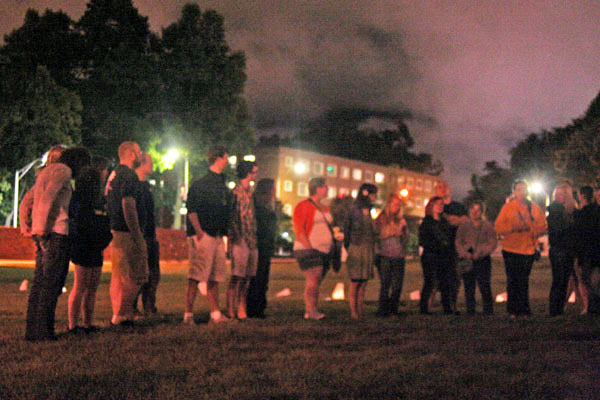 Around 40 students gathered on Duck Pond Field Sunday at 11:30 p.m. to commemorate the life of Paige Kriegel with a candlelight vigil.
Kriegel died July 24 from an unspecified cause of death. She would have been a junior social work major and photography minor this year. Kriegel was a member of the university's marching band, the Marching Mountaineers.
The ceremony began with people singing "How He Loves Us" and was followed by people sharing memories of their time with Kriegel.
Catie Bowers, who had been Kriegel's friend since high school, was the first to speak.
Kriegel was known for her love of God and was a "true inspiration," to everyone, Bowers said.
Bowers, sophomore child development major, read a passage from Hebrews posted on Kriegel's whiteboard in her room.
Emory Bollinger, junior criminal justice major, came to the vigil to share his memories of Kriegel. The pair had bonded over Disney movies, and Krigel was the person who introduced Bolinger to his current fiancee.
Other friends recalled memories of Kriegel which included laughing at her taping empty Diet Coke cans to the wall to her love of babies.
"I think she's looking down at us and laughing at all the things we said," Hillary Buchanan, senior elementary education major, said.
Kriegel's obituary was published The Dispatch, a local paper in Davidson county.
The obituary stated Kriegel could be summed in one word — "joyful." It also asked people to refrain from wearing black to her funeral, unless it was showing Appalachian spirit.
The Duck Pond ceremony concluded with a prayer.
Story: KELLI STRAKA, News Editor

Photo: MAGGIE COZENS, Photo Editor