Candlelight vigil held for Michelle Wilkins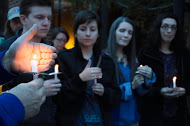 Members of the Boone community gathered around the Doc Watson statue downtown on Sunday night to hold a candlelight vigil for Michelle Wilkins. Attendees gathered together to sing uplifting songs and share their words in support of Wilkins.
Wilkins, an ASU alumna, was recklessly assaulted in Longmont, Colorado on March 18. She was seven months pregnant at the time.
According to a Watauga Democrat article, Wilkins was answering a CraigsList ad about maternity and baby clothes in Longmont when she was beaten and stabbed. The attacker removed the fetus from Wilkins' womb and the baby died shortly after.
In response to this tragedy, friends of Wilkins organized an event to raise awareness and support.
"We are here to honor an amazing woman, recognize this tragedy and to be with her," said Serene Solinsky, teacher and friend of Wilkins. "We want to let her know she has a safe place here in Boone."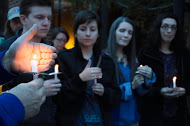 Solinsky expressed how everyone who came in contact with Wilkins experienced her love in different ways. This vigil, Solinsky explained, was a way for the friends Wilkins has made to express their love and support for her.
"We want to bring awareness to her need and create a space for her to continue her journey," she said.
Wilkins' friends in attendance showed their full confidence in Wilkins' ability to recover from this tragedy.
"I know she'll see the reason for this tragedy and I believe she will be able to find the positivity in it," said Jeremiah Brown, a friend of Wilkins. "This is tragic, but we think she can take this and give people hope and help them be understanding and forgiving."
While sadness and grief may be expected in these situations, the group in attendance showed a powerfully optimistic confidence in Wilkins' ability to get through her loss.
"We grieve the loss of her child, but celebrate her gaining strength to get past this," said Laura Thompson, another friend of Wilkins.
One of Wilkins' friends, Amanda Vance, urged the community to "keep hope and light" in the face of this disheartening tragedy. While many in attendance knew Wilkins personally, some came knowing nothing about Wilkins other than her current situation.
"I just realized this was something worth being at," said Charles Graham, Boone community member. "I read the article and burst into tears."
Graham connected with Wilkins, not only as a fellow member of the community, but also as another expectant parent. While he does not know Wilkins personally, he wishes to support her in any way he can and hopes the community does the same.
"It's a hard thing to talk about, but something must be said," Graham said.
He expressed how this difficulty could lead to inaction. But, at this vigil, he saw the community refusing to let the gravity of this issue intimidate it.
"This is a community coming together and saying 'let's do something, instead of nothing,'" he said.
A donation page has been created for Wilkins on Gofundme.com.
STORY: Josh Wharton, Intern News Reporter