Captains bringing leadership and family mindset to App State women's soccer
Coming off of back-to-back winning seasons and a Sun Belt postseason win before falling in the second round to South Alabama, the Mountaineers are entering the fall season with a new outlook that involves three key principles: community, collaboration and sisterhood.
Returning seven starters from last season's team, the Mountaineers are implementing these three principals. They're doing this with the help of their four team captains, who represent the adversity and importance of being a leader.
Seniors Morgan Mosack, Lindsey Tully, Kelly Flanders and redshirt junior Sarah Peatross were honored with the captain titles.
"This year instead of captains, we wanted a leadership team since we had so many great leaders," head coach Sarah Strickland said. "Our leadership team includes not only our four captains but many others. We have so many people that do their part and that is why it works so well."
Looking at this season's roster, opponents may take note that 2016 Sun Belt offensive player of the year, NCAA player of the week winner and leading scorer Jane Cline is no longer on the Mountaineers due to her graduation in the spring.
In addition to losing Cline, the Mountaineers lost key contributors Jackie Nieradka, Jenn Bass, Brie Balhmann, Carrie Taylor and Aubrey Fletcher.
"We still have a lot of depth, but our depth has a lot of experience now which isn't the way it was in the past," Strickland said. "The depth allows our players to come off the bench and get a lot of minutes and come out with more confidence if they haven't been in that situation before."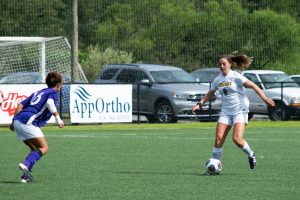 With Cline leading the team with 91 shots last season and the second leading shot taker having 56 less shots than Cline, this Mountaineer team will be relying on their depth to have numerous offensive threats.
"I think we are almost more dangerous of a team," senior Lindsey Tully said. "Having Jane was awesome and we will miss her, but multiple people makes it harder for people to defend."
Tully enters her senior year as a co-captain for the third straight year. However, after playing defense her first three years in college, Tully will be moving to the offensive side of the ball.
Strickland took notice of Tully's robust offense over the summer and the two mutually decided to switch Tully from the backline to up top to be more involved in the attack.
In the Mountaineers' first exhibition game, Tully led the team with seven shots. Through the first two regular season games, Tully ranks second on the team in shots taken with five as the Mountaineers are still searching for their first goal of the season.
"Tully leads by example and she is a very experienced leader and has been captain three years now," Strickland said. "She is someone the girls respect and definitely brings a balance and different things to the table."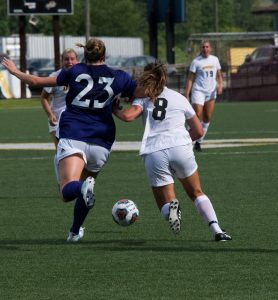 By way of Tully shifting from defense to offense, Flanders looks to continue being a central part of the Mountaineers defense that has new faces on the backline.
"I think it is a great thing that we have depth to try people in different places and if one person needs a break, you can keep the playing level high," Flanders said. "We had a lot of people we put together last year but you'd be surprised with how many people have risen to the occasion this so far."
Starting in every game to date in her collegiate career and finishing with 12 shots on goal with only 19 total shots last season, Strickland describes Flanders as the unsung hero of the squad.
"She gets her job done all the time," Strickland said. "She keeps her head down and grinds every session whether in the weight room, classroom or the field. She is a workhorse and when she speaks everyone listens. She is calm and quit but when she speaks it is impactful."
Assisting Flanders on the backline is Mosack, who has proven to not only be a workhorse in being one of five players last season to log over 1,800 minutes, but one of the most outspoken leaders.
"Mosack is the commander of group," Strickland said. "She makes sure the ducks are in row and everyone knows where need to be."
Mosack already describes the team as one that won't be backing down that easily and the freshmen as hopeful key contributors.
"They're confident and strong," Mosack said about the freshmen on the team. "They don't back down from battles and that has been good to see."
Part of the reason Strickland brought in such a large freshman class is because of the strength of experience that the veterans have. Having so many players fight through injuries and go through several memorable games together, the freshmen will have the chance to follow in the footsteps of such a tight-knit team.
"When people asked why I brought in such a big freshman class, I told them because of the senior class," Strickland said. "What they stood for and how they carried themselves and what they did. Them (the freshmen) living it is pretty awesome and to aspire to be as close to the senior class and have as many impactful players as they do is a big thing."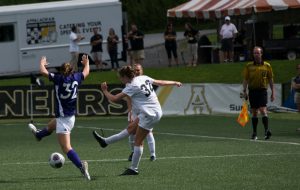 Listed as a redshirt junior, Peatross has been through all the ups and downs with the senior class. Peatross, along with fellow redshirt junior Erin Settle, are two examples of players who have faced hardship with two ACL injuries that set them back for a big comeback.
Termed as the "light hearted" and the "sense of humor" on the team by Strickland, Peatross plans on using her captain role not only for leadership but to help others fight through some of the adversity they may face.
"It's been a journey," Peatross said. "I honestly didn't know if I would make it to this day with the surgeries I had. It is an honor that I am even in this position and can help leads this team and other girls who have been what I have been through."
While there are four captains listed on the roster, the Mountaineers have a whole team to keep each other motivated and play hard every day despite the loss many key seniors.
Whether it is fighting back from an injury, supporting each other on the sidelines or spending time off the field together, this Mountaineers team represents leadership from top to bottom.
"We are just working on staying together as a whole and a team and letting the newcomers feel welcome," Mosack said. "We have a lot of shoes to fill, but we are going in with a new mindset and new positions."
Story By: Jason Huber, Sports Editor
Photo By: Lindsay Vaughn, Senior Photographer