Ceremony held to dedicate Alice Roess Dining Hall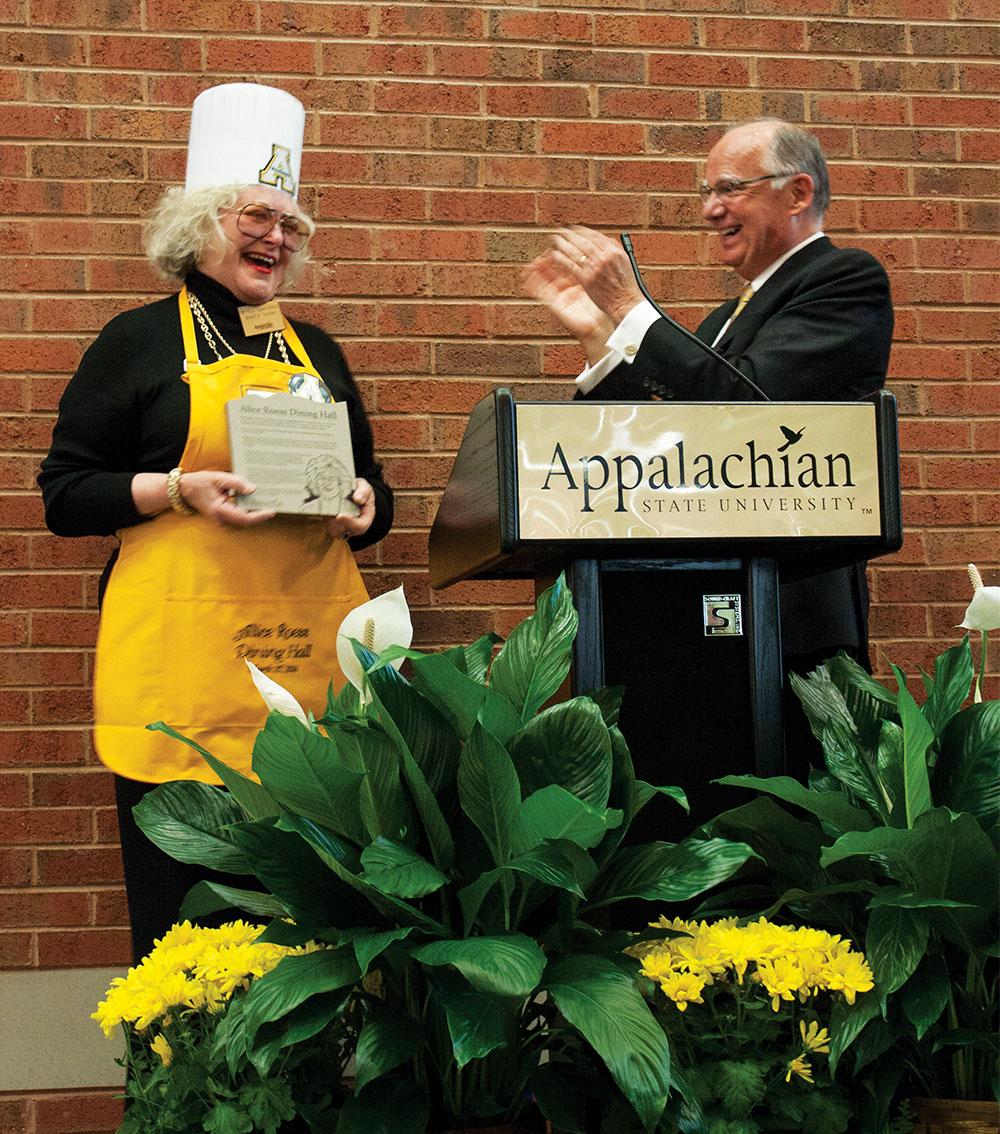 Appalachian State University's Central Dining Hall was officially renamed Alice Roess Dining Hall on Thursday at a dedication ceremony.
The building was named in honor and recognition of Board of Trustees member Alice Roess, one of approximately 50 people in attendance in the building at 4 p.m.
"This is such a proud moment," Roess said. "I am just thrilled to death."
Chancellor Kenneth Peacock officially introduced Roess and announced the renaming of the dining hall. Roess, who is currently serving her fifth year as a trustee member, thanked everyone in attendance, including fellow Board of Trustees members and friends.
During her speech, Roess spoke about the hardship she faced when she lost her only child, husband, mother and father in a relatively short period of time several years ago.
"God gives you those who you need, when you need them," Roess said in reference to Peacock, who asked her to serve on the board shortly after her losses. "Ladies and gentlemen, that day, Ken Peacock saved my life. He stepped in and gave me a sense of purpose and it has been growing ever since."
Roess nicknamed the dining hall Alice's Restaurant after the popular folk song by Arlo Guthrie "Alice's Restaurant Massacre."
"This is the perfect place to recognize Alice," Peacock said. "It is one of the most important places we have on campus and she has done so much for this campus, giving generous time, support and resources for academics, the arts, athletics and for landscaping."
Peacock said he was proud to recognize Roess on his clock, in reference to Appalachian's next chancellor Sheri Noren Everts, who was in attendance.
Board of Trustees Chair Michael Steinback opened the ceremony with a few complimentary words to Roess and congratulated her on this recognition.
"When I walked outside today and I saw her name affixed on both sides of this building, I said to myself, 'how richly deserving this person is,'" Steinback said. "She is gracious, she is kind, she is generous and she is all about a passion and service to this fine university."
Student Government Association President Dylan Russell was the final speaker of the ceremony and said Roess Dining Hall is a special building on campus for all members of Appalachian.
Russell presented Roess with a yellow apron, embroidered "Alice's Restaurant," while Peacock presented Roess with a chef's hat as well as a plaque of recognition.
In addition to her duties on the Board of Trustees, Roess is the chair of the Blowing Rock Appearance Advisory Commission, member of the Blowing Rock Planning Board, General Events Chair of the Chestnut Ridge fundraisers, broker at Blowing Rock Investment Properties and member of the Watauga Humane Society Board. Roess served on the chancellor search committee, as well.
Story: Gerrit Van Genderen, News Reporter  
Photo: Rachel Krauza, Senior Photographer