Hatchet Coffee is moving locations to a building across the parking lot from its current shop. Center 45 Climbing and Fitness will absorb Hatchet's space.
The building is located next to its roastery and will include a preparation kitchen in the rear, a coffee bar lining the back and extended hours. Dominic Ascanio, head barista, said Hatchet plans to sell wine, beer and possibly desserts in the future.
"We've had days, and they're becoming more consistent weekend days, where the line is from the coffee bar out past the gym doors," Ascanio said.
Seats in Hatchet are frequently filled on weekends and weekdays, Ascanio said. Hatchet needs an established cafe to offer more to its customers.
The current setup of Hatchet can be confusing to customers, Ascanio said.
"We've had people who walk in, are confused about where the coffee is and turn around and leave," Ascanio said.
Hatchet Coffee has a lounge area upon entering, and the coffee bar is in the back of the shop. Ascanio said that even when employees put up signs pointing customers in the right direction, some stayed confused.
Hatchet plans to move to the new building in stages during renovation so the establishment doesn't have to close.
"After we close one night, we'll wheel everything over the next morning, that's the plan," Ascanio said.
Ascanio said Hatchet Coffee is fond of its current location and wants to stay there. Hatchet Coffee is located off of Bamboo Road, inside Center 45 Climbing and Fitness.
Other businesses have clustered downtown, so having Hatchet Coffee located away from that area can be a nice break for customers, Ascanio said.
"You can kind of create whatever feel you want because you're not surrounded by a ton of other things," Ascanio said.
Center 45 will take over the space once Hatchet moves. The climbing gym rents one section of the building to Hatchet.
Aaron Parlier, co-founder and general manager of Center 45, said the company plans to keep Hatchet's space as a lounge area for climbers, but will change the coffee bar into a smoothie and juice bar with energy-replenishing snacks.
"You can start your day with coffee and come in here, get a workout in and then end with something that helps with recovery," Parlier said.
Parlier said many students come to study and work out during their breaks, so the lounge area will remain an area where they can do that.
"If they're working on a report or something, you know being able to do something active while giving your brain a mental break," Parlier said.
When Center 45 opened, it wanted to incorporate another business unrelated to climbing or fitness, Parlier said.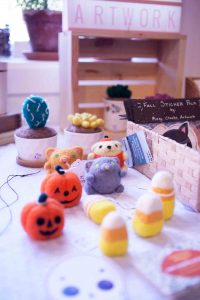 "Specifically, something that would involve food and beverage and would allow folks to spend more time or a different part of their day here," Parlier said.
Parlier and his business partner both knew Hatchet co-founders, Jeremy Parnell and Jeremy Bollman.
"I guess over a course of conversation he came through and saw that this space was going to be available," Parlier said. "It really kind of worked out because Hatchet has an outdoorsy, kind of adventurous aspect in terms of marketing."
Parlier said the companies are fortunate in the overlap of customer appeal. Customers come in looking for the climbing gym and stumble across Hatchet's coffee shop and vice versa.
"A huge percentage of folks that come in here to climb either start their day or make frequent trips while climbing to get coffee," Parlier said.
Parlier said the relationship will remain strong between the two businesses because Hatchet's new location is still within the "little neighborhood area."
Alongside this location change, Hatchet has also recently partnered with Pop Up Boone by hosting the artisan market in its roastery. Pop Up Boone had a collection of 36 local artist's work for sale at this monthly show. It will be having its next event on Nov. 17 and Nov. 18 at Hatchet Coffee, according to Pop Up Boone.
Ascanio said the event would benefit Hatchet because a whole community of people would be coming to the area for handmade goods and might stop to buy coffee as well.
Story by Laura Boaggio, A&E Reporter
Photo by Mickey Hutchings, Photo Editor
Feature photo caption: Patrons taking a polaroid photo at Boone Pop Up amongst the bustle of the shopping. Shoppers could take a polarioid for $1 at this weekend's Pop Up at Hatchet Coffee.