Despite their strong start to the season, the Mountaineer men's soccer team was yet to earn a shutout going into their game against Longwood (0-4-1) on Saturday. The combination of freshman forward Reed Hunnicutt's first career goal, and a string of impressive saves from junior goalkeeper Jake Chasteen seemed to do the job as the Mountaineers (3-3-1) were able to produce their first clean sheet of the year 1-0.
After a tough loss against No. 4 ranked Wake Forest earlier in the week, a game where App State was held to no shots the entire 90 minutes, the Mountaineers looked like a completely different team this time around, taking fire 11 times throughout the game.  
After a back and forth first half, the game's only goal came in the 18th minute by way of a clean finish from Hunnicutt, after receiving a through ball from fellow freshman forward Juan Hernandez.
"I called for the ball and I knew I could get past the last defender," Hunnicutt said when describing the moments leading up to his goal. "You have to have shots to win the game and defense to get a shutout, and we had that tonight"
Along with the impressive offensive performance, came a strong defensive one as well, led by Chasteen and junior midfielder Ian Bennett. As the game went on, Chasteen did an excellent job stopping shots and organizing his defense, while Bennett's presence in the middle of the field proved to be one of the deciding factors in the victory.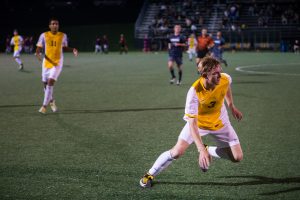 Chasteen brought up the importance of playing well at home and said that head coach Jason O'Keefe often talks about having a "shutout mentality." On Saturday's game, Chasteen said the squad "stuck together, played as a unit, and communicated well throughout the game."
"The biggest thing is getting the win," Bennett said. "When we get a shutout, we're in a good place to win games."
O'Keefe was also happy with the win at home praising the team's effort.
"Going into halftime with the with the lead really gave us a boost," O'Keefe said. "The young guys are having a great impact. The returners have set the tone and the newcomers are following their lead."
The Mountaineers will now begin to prepare for a two game road trip, where they will visit UNCG on Sept. 23, and travel to Duke on Sept. 26.
Story By: Zack Antrum, Intern Sports Reporter
Photos By: Haley Canal, Intern Staff Photographer