On Sept. 20, the Appalachian Popular Programming Society hosted a stand-up competition that featured 13 App State students competing for the opportunity to open for stand-up comedian Chris D'Elia. The competition was held in the Blue Ridge Ballroom with a packed crowd of students and faculty alike.
The competitors were given five minutes to showcase their best material and were graded on a numerical scale of zero to five in categories that measured creativity, crowd feedback and overall showmanship.
The acts were judged by members of the Appalachian student body, including Student Body Vice President Alan Lee, Kiera Massi, a member of the a capella vocal ensemble group Eharmonix, and APPS President Matthew Raynor. The event also included members of the Comedy Club, including their president, Jimmy Briggs, and vice president, Brooke Hayhurst, who both performed.
Students of all grades from freshmen to seniors attended and performed. There were moments of riotous laughter when senior psychology major Adam Perez told his uncanny story about a fictional CIA job interview, which consisted of him becoming abducted by police and covered in salad dressing. There were also moments of deafening, soul-crushing silence as jokes bombed horribly in front of the blank-faced crowd.
All the comedians had moments of hilarity, but it was junior journalism major Ben Lynch who tied with junior sociology major Anthony "Tony" Jennings for an unprecedented sudden death match. Lynch used his improv skills and quick wit to tell jokes he made up on the spot, while Jennings used his body language to convey emotion and make the audience roar with laughter. In the end, however, it was Lynch who finally won by unanimous decision.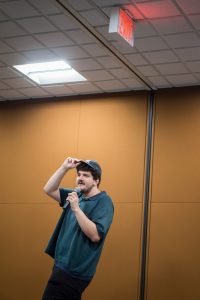 "I've only been doing comedy for a year and a half and mostly everything heard today was on the fly," Lynch said. "I wrote some of it, but mostly it was off the top of my head, especially the second part; I was not expecting that."
Lynch said his style is more silly and unexpected and that the audience reacted well.  The event was hosted by APPS as a way for students to showcase their talents and funny attributes.
"The event went really well last year and we are unbelievably happy about how it went this year," Caroline Day, sophomore interior design major and Special Events Council chairperson for APPS, said.
APPS will continue to host a myriad of events this year to further showcase student talent and to get students more involved.
The comedy event was held not only to support student involvement, but also for the prize of being able to open for comedian D'Elia on Oct. 4 as he performs a homecoming week show, located at the Schaefer Center for Performing Arts. Lynch will be given a five-minute set in the beginning of the show and then will bring D'Elia on stage.
"Some of the jokes will stay the same, but I'll change a good bit of it," Lynch said.
The show is presented by the APPS Concerts Council, which focuses on bringing national touring acts to App. Some of their previous events have included The 1975, Keller Williams and Lil Wayne.
"We're very lucky to have Chris D'Elia perform here," Concerts Chairperson Emma Forbes, a junior public relations major, said.
D'Elia is one of the most sought-after comedians and actors in the comedy world and he is best known for his starring role on the NBC comedy series "Undateable." His latest stand-up special, "Man on Fire," is on Netflix. He has also launched a successful podcast "Congratulations with Chris D'Elia" in February, and has since been high on iTunes' comedy podcast charts.
Most recently, D'Elia signed on for a major supporting role in the romantic drama "Life in a Year," joining actors Cara Delevingne, Jaden Smith, Nia Long and Cuba Gooding, Jr. D'Elia will also act in the Netflix horror comedy "Little Evil" opposite Adam Scott and Evangeline Lilly, set for release later this year.
The event is $20 for students and $27 for the public. Doors open at 7 p.m. and the show begins at 8 p.m. on Oct. 4.
Story By: Myles Toe, A&E Reporter
Photos By: Hayley Canal, Intern Photographer