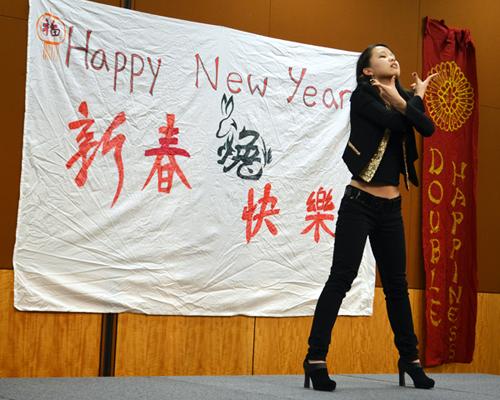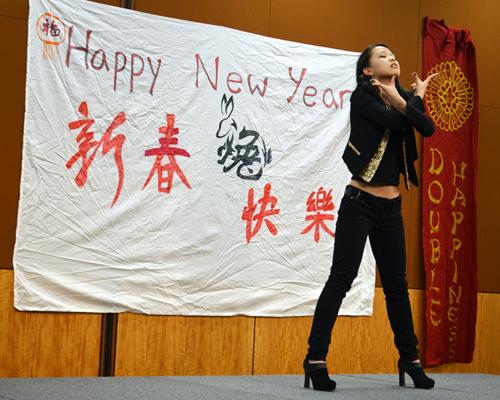 The Chinese Culture Club hosted a celebration for Chinese New Year Tuesday in the Blue Ridge Ballroom of Plemmons Student Union.
Various speakers and performers took the stage while vendors and demonstrators lined the far walls selling goods and explaining Chinese customs to curious guests for the Year of the Snake.
Among the performers were visiting professor Yongui Wang, who sang a song from a popular Chinese television show, as well as a student who performed a contemporary hip-hop dance.
"My favorite part was definitely the performances," said Lisa Myers, president of the Chinese Culture Club. "It's nice to see people's talents."
Myers said that the performers were mostly students, but there were faculty members and members of the community as well.
There were some technical difficulties during the celebration. During a 10-minute period when the sound and video system were not working properly, one of the members of the club convinced a friend of his to come onstage to talk to the audience about his experience studying abroad in China.
The Chinese Friendship Association and two organizations under the Office of International Education and Development funded the event.
Student volunteers contributed to the items that were sold and showcased.
Sophomore global studies major Harmony Bouley displayed a calligraphed fan she made at a workshop in Taiwan.
Bouley is also the social chair of the Chinese Culture Club. She spoke of the club's plans to travel to New York City next year.
"We're holding a bake sale Feb. 20 to raise money for the trip," Bouley said. "There will be all kinds of foods."
Vendors' profits and donations also went toward the club's planned trip. The Chinese Culture Club chose New York as their destination because it holds the nation's second-largest Chinatown.
New China Buffet catered the event and student volunteers served the guests. One of the servers, sophomore Rachel Long, came to the celebration with her Chinese 1050 class.
"It's not really mandatory, but most people go," she said. "It's definitely a tradition."
Long said that members of her class are encouraged to attend and help out at the Moon festival as well, which occurs in the fall.
"The Chinese community really comes together to put this on," said junior international business Ally Lasley, a member of the Chinese Culture Club, who volunteered as a greeter.
Chinese New Year is also referred to as the Spring Festival, or Lunar New Year, and its official date was Sunday.
Photo & Story: EMMA SPECKMAN, Senior A&E Reporter