Appalachian State baseball earned its first win over an ACC opponent this season Tuesday in an 11-0 throttling of Virginia Tech on the road.
The bats were certainly active as the offense plated runs in five innings and blasted 14 hits. But what was even more impressive was the pitching performance from freshman right-hander Sean Mason, who pitched his second complete game of the season, holding the Hokies to two hits on the day.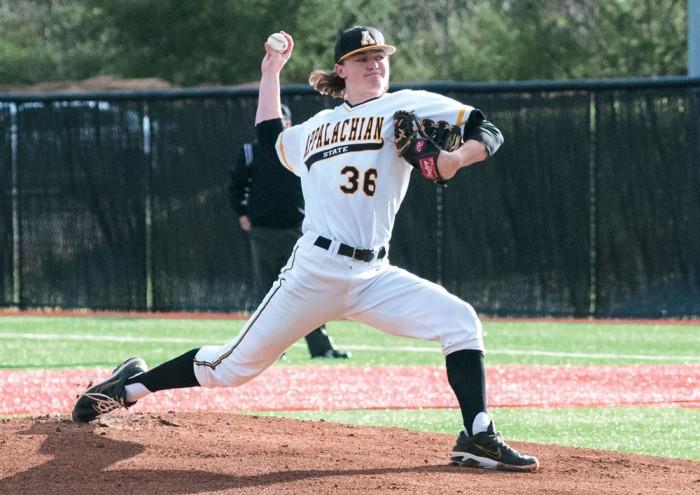 For App State baseball, pitching is what has spurred the turnaround for a team that started the season 1-11. After the shaky start, I predicted the team would turn things around.
In my bold claim, I factored in the strength of the team's schedule in the beginning of the season, but I also knew the pitching staff would find their groove.
And they have truly settled into a zone as the team goes down the home stretch of the season.
As the Mountaineers have rallied to improve its overall record to 15-24, the starting pitchers have subsequently improved their ERAs and are frustrating opposing hitters.
With 14 games remaining before the Southern Conference tournament, that is fantastic news for the Mountaineers.
Perhaps most impressive is the ability of App State's starting pitchers to pitch deep into games – a factor that has allowed the bullpen to stay fresh for the stretch run of the season.
Senior right-handed pitcher Tyler Moore leads the way in complete games for App State with three. Junior right-hander Jamie Nunn has pitched a complete game once, and Mason's nine-inning effort was his second complete game of the season.
Pair the stamina with an ability to frustrate hitters, and you can see why App State is so lucky to have the starting pitchers they have.
Moore fields a team-high 3.08 ERA, but Mason and junior left-hander Jeffrey Springs also have ERAs below four, at 3.35 and 3.76, respectively. Nunn isn't far behind with a 4.63 ERA of his own.
The gaudy numbers continue when analyzing how opponents are hitting against the App State starting pitchers. None of the four regular starters have opposing batting averages that exceed .290.
Mason leads the way in that regard with a .212 opposing average, while Springs and Nunn boast a .249 and .267 mark, respectively. Moore rounds out the crowd with a mark of .289.
The Mountaineers have rounded into form offensively, as they have plated 10 or more runs five times in 14 games in April. But the truly great story of the season has been the ability of the starting pitchers to be reliable every game.
As App State prepares for their final 14 regular season games as members of the Southern Conference, keep an eye on Mason, Moore, Springs and Nunn, because the most important grand slam the Mountaineers have hit this year is the assembling of its quartet of excellent starting pitchers.
Column: Cory Spiers, Sports Editor
Photo: Morgan Cook, Photo Editor