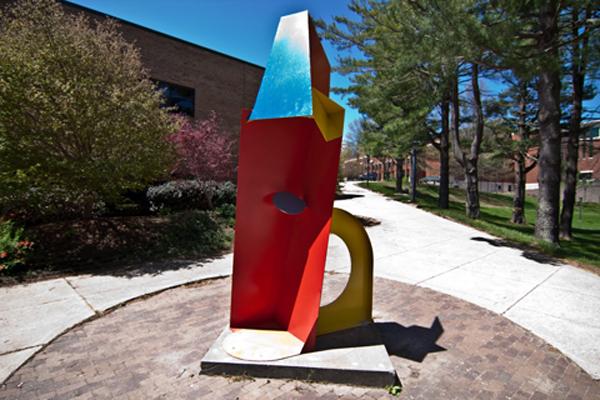 Whether it is a campus tour or a casual stroll to class, those who walk the campus of Appalachian State University often notice one thing: the sculptures.
Much of the outdoor art that fills Appalachian's campus is produced as part of the Rosen Outdoor Sculpture Competition.
The annual juried competition is in its 25th year and is funded by donors Martin and Doris Rosen.
"The competition continues to provide a unique opportunity for sculptors to interact with Appalachian students and the surrounding community," said Brook B. Bower, assistant curator at the Turchin Center for the Visual Arts (TCVA).
The sculpture competition is also a way for visitors on campus to get a taste of the newest developments in sculpture and installation art.
"We experience a level of public art not found in many communities…the installed works provide an overview of what sculptors are creating across the country," said Hank T. Foreman, cultural affairs director and chief curator for the TCVA.  
Eight winners were chosen from the 41 sculptures submitted in this year's competition.
Paris Alexander of Raleigh, Aaron Lee Benson of Jackson, Tenn., Loren Constantini of Milford, Conn., Jennifer Hecker of Brockport, N.Y., Ira Hill of Tallahassee, Fla., IlaSahai Prouty of Bakersville, Adam Walls of Laurinburg and Glenn Zweygardt of Alfred Station, N.Y. will all see their work exhibited on Appalachian's campus.
One of the eight sculptures will be chosen to receive the Rosen Award. The Rosen Award winner will be announced July 23 at the Rosen Outdoor Sculpture Walk, part of An Appalachian Summer Festival.
Several events will surround the installation of the 2011-12 Rosen sculptures. Installation of the sculptures will take place today and tomorrow. With the assistance of TCVA staff, gallery assistants and other volunteers, the eight sculptors will install their own work.
Bower said anyone is welcome to watch the installation process along the west side of campus.
"[The installation] is mostly viewable…along Rivers Street, stretching from Walker Hall to the Duck Pond," Bower said, adding that specific installation locations will be listed on the TCVA website within the week.
This year's juror, Mel Chin, will lead a tour through the sculptures July 23 at 10 a.m. The sculptures will remain on display through February 2012.
Bower considers the Rosen Outdoor Sculpture Competition an important part of on-campus life and learning at Appalachian.
"The sculptures on campus can be used as a tool to question our surroundings and better understand how the arts can become an integral part of our daily lives," she said.
For more information on the Rosen Outdoor Sculpture Competition and related events, visit rosensculpture.org or tcva.org.
Story: MEGHAN FRICK, Lifestyles Editor