Costume sale has students' Halloween needs covered
Appalachian State University's Technical Theatre Club hosted their 10th annual costume sale Thursday through Saturday in the lobby of Valborg Theater to raise money for a national conference and to help alleviate the lack of costume shops in Boone.
"We give out [costumes] to the community and we help in every way possible because when there are no Halloween stores during the month of October, we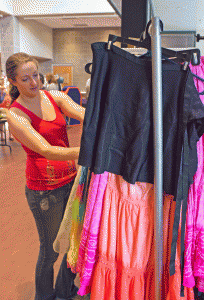 can gladly assist them," said Ashley Cosby, a senior theatre major.
The theater club had an array of costume pieces, clothing and accessories available during the sale, selling everything from vintage wedding dresses to Disney character Elsa's dress from the movie "Frozen." The prices of the pieces ranged from $5 to $85.
"We normally get a lot of people in looking for Disney costumes," said Cosby, one of the chief organizers of the sale. "It's been mixed this year. Last year it was a lot of Disney and this year its been all over the place from superheroes to pop culture characters and people in TV shows."
Some costumes at the sale were made by the Technical Theatre Club while some were donated from people throughout the years. The club has been preparing for this event since August.
"We work on it all year long during our free time,"  said club advisor and faculty member Alice Neff. "We can't sell anything that belongs to the theatre department so we bring in everything."
Freshman undecided major Noah Hodges said he came to the costume sale to get motivated for Halloween.
"I heard they had costumes and I'm a big fan of Halloween, so I wanted to see if there was any inspiration for a Halloween costume," said Hodges, who ended up buying a sports coat for $6. "This is a good way to recycle old clothing and find other uses for it and find creativity for costumes."
The Technical Theatre Club plans to use the profits from the sale as funds for the United States Institute for Theatre Technology's conference, an annual event run by the national organization for theatre production, design and technology professionals.
"At the conference, students can interview for future jobs, grad schools, meet people and attend workshops," Neff said. "It's a big deal and it is very expensive."
Story: Casey Suglia, Intern A&E Reporter
Photo: Dallas Linger, Intern Photographer