DIY skate park in jeopardy by ASU property purchase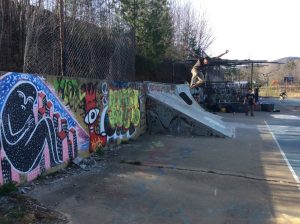 Appalachian purchased the former Watauga High School on Tuesday for $15.5 million. Although this deal marked the beginning of a new era for the university, it simultaneously brought about the end of another for the Boone skate community.
The old Watauga High School is home to Boone's only legal skate site. The park functions as a do-it-yourself spot. This means that it has been funded, planned and constructed solely by the skateboarders themselves.
After the high school was demolished in 2013, the spot began to take shape. J.P. Pardy, owner of local skate shop Recess, said it was around this time that people became motivated to add to the site. Pardy said pieces were brought in, little by little, until the spot became what it is today.
The site has faced a fair amount of controversy since its beginning. In 2016, skater Patrick Ferris successfully started a petition to stop the demolition of the do-it-yourself site. County manager Deron Geouque allowed the site to remain.
"Deron was one of the first people to listen and nod his head," Pardy said. "You don't get these wins in this county."
Their win, however, was short lived. The 2016 deal with the county held that skaters could continue to use the spot until it was sold. While Pardy had an inkling that a sale was on the horizon, other skaters like Appalachian State freshman studio art major Nolan Warner-Sullivan were taken aback when news broke that App State purchased the site.
"We have a group message set up about skateboarding in Boone and I heard about it right there," Warner-Sullivan said. "I just got a text and it was like, 'ASU is going to buy this.' So I heard about it two days ago."
Skateboarder and senior building science major at Appalachian State Nick Sizer said the deal is "displacing a whole community."
Pardy said the demolition is slated for September 2017, but in the meantime he said the skaters will remain skating there for as long as they can.
"We all knew it was going to happen and we get that," Ferris said. "That's good profit for the county. But the need for skateboarding isn't going to go away. So really, the demolition just kind of marks the next step, which is getting a skate park."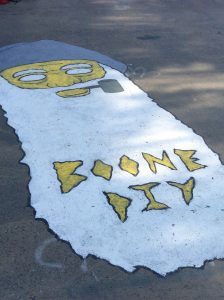 Statements from the Appalachian State University news webpage said the old high school will most likely be turned into a recreation center with a swimming complex for Watauga High School students.
While he agrees that Watauga High School swimmers need a place to practice, Warner-Sullivan argues that WHS skateboarders need a place as well.
"I have at least three kids from the high school I know and they rip at skateboarding, but they don't have anywhere to skate," Warner-Sullivan said. "It's an Olympic sport at this point, it's only getting bigger."
Pardy agreed and said that "in the way of the world now, skateboarding is not this outcasted, niche thing anymore."
If anything, Pardy argues skating helps keep local kids healthy, outside and out of trouble.
Warner-Sullivan said the Boone skate scene was a deciding factor for him while choosing a college. However, when he learned about the no-skateboarding policy on campus during orientation, he was shocked.
"[Appalachian State] talk[s] about affordable recreation and skateboarding is 100 percent that," Pardy said. "The fact that we don't have that is so behind on the times. The fact that skateboarding on the street is illegal is so behind on the times. It's sustainable transportation."
Despite the disappointment of losing their only spot, the skaters remain determined.
Pardy said that in 1999 the spot to skate was Junaluska Road, in 2003 it was the old Lowes lot on State Farm Road and in 2013 it was the D.I.Y site.
Although this chapter of Boone skateboarding is coming to an end, one thing remains clear. The skate community needs somewhere to call home.
"We're still building stuff," Pardy said. "We have funds to build. Skate parks take a long time to get made. But we don't mind starting over."
Story by: Haley Brown, A&E Reporter 
Photos by: Haley Brown, A&E Reporter