On Sept. 27, INTAPP kicked off the first Global Exchange of the semester. The event, which celebrates international culture, was founded by Lindsay Pepper, assistant director of International Student and Scholar Services & Outreach.
"It's for international students to use as a platform to teach students about their culture," Pepper said. "Also, for domestic students, it gives them a chance to experience something international while still being on campus if they do not have a chance to study abroad."
Global Exchange occurs in White Water Cafe in the student union at 4 p.m. on the last Wednesday of each month. Each event features an international student who teaches domestic students, as well as other international students a little about their culture through food and dance.
This INTAPP event was created after the club's students would get together to have coffee hour. During this hour, international and domestic students would learn about cultures abroad by featuring a single international student who would teach students about their countries through a multitude of activities, from dancing to participating in games. Since the beginning, Pepper loved the idea of connecting cultures through dance.
"They would either teach a dance, play music or do some activity. But I really liked partner dancing rather than social dancing just as a way to meet people. So we kind of just morphed into Global Exchange," Pepper said.
The first Global Exchange featured Brooke Waldron, who is an international student from the United Kingdom. Waldron studies dance at the University of Sunderland near her home town of South Shields, which is only ten minutes from the coast.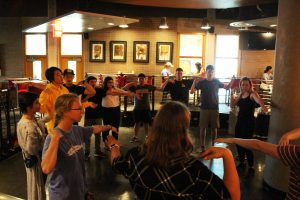 At Sunderland, Waldron is a student of dance; however, she also teaches workshops and shares her dance style with her students. During Global Exchange, Waldron taught a group of left-footed students two styles of dance called "Waacking" and "Voguing." Voguing actually originated in Los Angeles thanks to the LGBT+ community, as did the style Waacking. Brooke says that in the U.K. the style is usually performed at events called Vogue Balls and at the LGBTQ festivals, which happen in the summer.
"Anything is acceptable in Voguing and Waacking," Waldron said. "It doesn't matter if you're great, what Waacking is about is that you're there and enjoying yourself."   
Back home, Waldron is heavily influenced by her dance professor and the LGBTQ community. "I have a lot of LGBT friends and I am heavily involved in that community because they're such happy people," she said. "I just really support the fact that people are different and that they are able to show who they really are. That's a main thing in life for me because I would hate for anyone to be reserved, which I used to be, and that would take a toll on me in school. So being a part of that community has really helped influence my style."
With so many international students coming to Appalachian's campus, and the numbers only increasing every year, it is important to have programs that help them become immersed in our community. INTAPP as well as the OIED offices have helpful resources; however, Global Exchange allows international students to mingle with domestic students in an interactive way.
"I like this event because initially people come in being kind of intimidated, not wanting to talk, let alone dance with anyone," Pepper said. "But by the end of it they're laughing with each other and making friends. They've learned something and have even been able to experience something that is done in another country that they've never been to."
Mariela Solorzano, a senior studying international criminal justice at Appalachian, is an INTAPP member who has also studied abroad. Solorzano studied in Valpariso, Chile, during her junior year and said that the experience has changed her life.
"Going abroad has impacted my perspective. Also, being in INTAPP, we're always accepting international students, constantly seeing them come and go," Solorzano said. "In Chile, I was in their shoes as an international student. That was actually a very cool experience because I'm always used to seeing from their point of view but I never got to see it from mine."
As Global Exchange wrapped up, Waldron gave students some tips for improving their dance skills as they left.
"Just be confident, be flamboyant and go with the flow like you're Beyonce," Waldron said. "That's what I like to live by."
Global Exchange takes place every last Wednesday of the month from 4-5 p.m. in the White Water Cafe in the Plemmons Student Union.
Story By: Savannah Nguyen, Intern A&E Reporter
Photos courtesy of Lindsay Pepper