Deacons block Mountaineers victory attempt in renewed rivalry
It came down to the final seconds in a rivalry renewed after 16 years, but App State football ultimately lost to Wake Forest 20-19 after a potential game-winning field goal was blocked with 10 seconds remaining on the clock.
To make matters worse, Wake Forest (4-0, 1-0 ACC) blocked an App State extra point in the first quarter that came back to haunt the Mountaineers (2-2, 1-0 Sun Belt) to make it a one-point loss instead of sending the game into a probable overtime.
Playing in front of a record crowd of 35,126 fans that broke last years' against Miami, the Mountaineers and Demon Deacons exchanged leads six times throughout the game before Wake Forest took home the victory, giving them a 15-7-1 series.
"We knew that it would be that type of ball game," head coach Scott Satterfield said. "I thought our guys had a great week in practice. We knew we would come out with effort like that. There is a very fine line in between winning and losing. You have to make a play somewhere down the road to get over the hump and someone has to make one extra play. It came down to the last play and unfortunately we didn't make it today."
All 22 previous meetings took place in Winston Salem, making it the first time that the Deacons visited the Mountaineers and only the second time that a Power Five team visited Boone, and App State made sure not to make it a blow out like they did last year against Miami.
"I think the ACC last year was one of the best leagues in the country and possibly could be this year too," Satterfield said. "To go toe-to-toe with them, I'm extremely proud of these guys. We really had a chance. Looking at stats, we played really good and had a chance to win the game."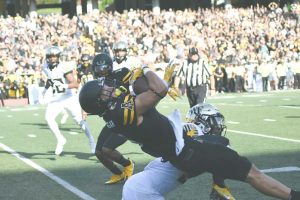 Outscoring their opponents 87-7 in the first half of games this season, Wake Forest quickly drove down the field to start the game, but App's defense held the Deacons to a field goal.
"Our coaches always makes sure we are on point with our responsibility and we always know what we have to do," junior linebacker Anthony Flory said. "Our coach did a good job getting us ready and we executed well"
Wake Forest put points on the board first with a 3-0 lead, but the Deacons were forced to punt on their next six drives with five three-and-outs.  
App State scored a touchdown on their second drive with a trick play from Lamb that consisted of a handoff to senior running back Terrence Upshaw, a pitch back to Lamb and a 20-yard touchdown thrown to senior tight end Levi Duffield. Sophomore kicker Michael Rubino's extra point was blocked making it 6-3.
"The extra point was a low kick," Satterfield said. "There was no pressure on that one. It ended up hitting the back of somebody."
Continuing to force Wake Forest to punt, App State hit a 38-yard field goal to give App a 9-3 lead at the half.
Wake Forest finally found their offense on their first drive to start the second half. Senior quarterback John Wolford led the Demon Deacons downfield for a touchdown to retake the lead 10-3.
The lead did not last long. Lamb connected with junior wide receiver T.J. Watkins for an 84-yard touchdown. The touchdown was the longest of Lamb's career and the first 80-yard touchdown pass by App State since 2005, as well as Watkins' first career touchdown.
"You see, at practice you just have to get him the ball," Lamb said about Watkins. "He had a good game against Akron last year and getting up field and that's the type of player he is. He is explosive and you saw on that long play."
Once again, the passing offense for App was key. Lamb threw for a career-high 50 passes, completing 26 for 372 total yards and passed former App quarterback Richie Williams for second on the all-time Mountaineers passing yards and total offense list. Lamb now only sits behind Armanti Edwards.
"We knew they had some holes in their defense with the boundary and how it just rolls on," Lamb said. "I thought we made some good plays out wide but we also missed some opportunities, and in film tomorrow we will see it. With key plays like that it's doing the little things."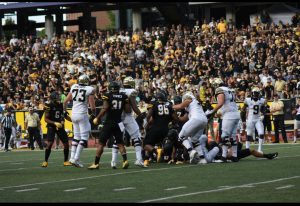 On the next drive, Wake Forest was forced to punt again, but this time, senior wide receiver Zy Letman was thrown an offsides penalty to give the Deacons a first down. Senior linebacker Rashaad Townes then lined up at the wrong time to have a 12-men on the field penalty.
"The two penalties I thought were crucial and they were mental errors," Satterfield "Those are two mental errors that can't happen, and that's coaching and on everyone. Penalties are hard but those are mental errors. It's certainly one of the determining factors in the game."
Both penalties led to Wake Forest scoring another touchdown and retaking the lead 17-16.
Freshman wide receiver Thomas Hennigan made a Sportscenter top 10 acrobatic one-handed catch in the fourth quarter for 35 yards. The catch had the crowd electrified and it led to Rubino hitting a 39-yard field goal to give App a 19-17 lead with 10:35 remaining.
"I have grown more in these last four games then my whole football career," Hennigan said. "All the other receivers on the team and other teammates, have had my back since the beginning to showcase what I can do and it's great playing on such a tight knit football team like this."
The Demon Deacons struck right back with a field goal to take the lead again 20-19 with 7:22 remaining in the game.
A long 10-play drive looked promising with a fourth down conversion for the Mountaineers, but App was forced to punt with 2:12 remaining in the game.
Satterfield decided not to go for it again and relied on his defense to get a quick stop and have one last shot on offense.
"Those guys up front are very good and we had a lot of respect for them, but we knew we could play with them," senior linebacker Eric Boggs said.
The defense came through and App had 1:42 remaining to score. Getting into the red zone with 10 seconds remaining, the Mountaineers set up for a 44-yard field goal attempt. As Rubino went for the kick, an offsides penalty was called on Wake Forest. Pushing Rubino up 11 yards for a 33-yard attempt, the kick was low and Wake Forest blocked it to give App a crushing one point loss.
"It sucks," Boggs said. "It has happened a couple times the last few years and we have to find a way to finish when it comes to the end of it whether it's offense or defense."
App State fell to 0-10 against Power Five teams since beating Michigan, but have another matchup set against Wake Forest in 2020.
For now, after a strong but tough loss, the Mountaineers will have their first bye week of the season to prepare for conference foe New Mexico State on Oct. 7.
Story By: Jason Huber, Sports Editor
Photos By: Lindsay Vaughn, Senior Staff Photographer