Forwards score goals and get points, goalkeepers make big saves, but typically defenders just defend playing most of the team's minutes.
This is something that the App State women's soccer team is ready to prove wrong. The Mountaineers' back line, which is made up of juniors Lindsey Tully and Kelly Flanders, senior Aubrey Fletcher and redshirt senior Carrie Taylor, have been working all season long to make a name for themselves as not only a strong defensive line, but also an attacking force to be reckoned with.
"That is one of the things that we take pride in and want to be known for is attacking out of the back," Flanders said. "We are probably most impactful when we can get the ball at our feet and play out of the back when our outside backs are getting forward and even our center backs are getting the ball at our feet and playing midfielders rather than just clearing it out of the back."
When you looks at a soccer stats sheet, defenders are usually nowhere to be found, but this is not the case for the Mountaineers.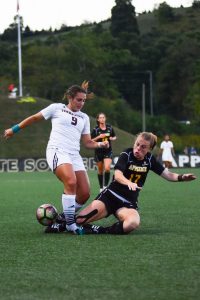 Tully, who plays at center back, ranks in the top five for the Mountaineers when it comes to total shots taken. Tully also found the back of a net with a header that was later called back off of a corner kick in the Mountaineers' game against Georgia State on Sunday, Sept. 25. Outside backs Fletcher and Flanders also oftentimes find themselves in the attack and each have one assist and three shots on goal.
The defense has also done an impressive job holding down the back, especially in the Mountaineers' tied against No. 22 Texas Tech on Sept. 11 and their win against Maryland, which was their first victory against a "Power Five" school in program history, on Sept. 4.
Texas Tech kept the Mountaineer defense busy with 18 shots to the Mountaineers' seven, and Fletcher made a team save in the game against Maryland by heading a shot out of the goal.
"I feel like we've done well with teams like Maryland and Texas Tech," Tully said. "From a defensive perspective those are definitely some of the tougher games we've had, and they will definitely prepare us for our conference games coming up."
The defense also played a key role in the Mountaineer's 0-0 shutout draw with Georgia State on Sept. 25. The Georgia State game was the team's first conference shutout, which is a stat that will go down under junior goalkeeper Sam Steyl's name, but defenders believe it is credit to them as well.
"I like to think that one of our stats is a shutout," Flanders said. "It doesn't really go under our name, but I think we take a lot of pride in getting a shutout because that means we have done our job."
Whether it is scoring goals or stopping them, the defenders have all had to learn how to work together and communicate well so that they can move all around the field.
"I played in the midfield all last year and then got moved to outside back this year and then got moved to center back," Taylor said. "A lot of soccer is being willing to go whatever, but I think what makes it easier is communication."
Taylor is currently playing for the Mountaineers for her fifth year but did not start playing at center back until this season. She proved to be a key player in the Mountaineers' most recent match ups against Georgia State and Texas State where she played all 110 minutes of each game, both of which went into double overtime.
Fletcher did not go into her college soccer career as a defender, but has been playing outside back since her junior year. Fletcher can often be seen streaking up the sideline with a ball played out of the back and, according to fellow defender Tully, is one of the most dangerous players capable of going up the sideline.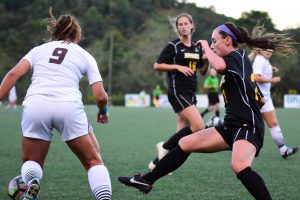 Flanders is the other outside back who is often involved in the attack and has also started every single game since the start of her college career. Flanders has logged over 1,000 minutes in both her freshman and sophomore year, and she has had six total shots so far this season.
Finally, Tully, who has played every minute since the beginning of last season, has been a dominant player in the back since her freshman year. She was named to the 2016 Sun Belt Preseason All-Conference team earlier this season, and she proved important in the Mountaineers' tournament run in 2015. In the tournament she helped to break the No. 1 seed South Alabama's 11-match winning streak, and she scored a game winning goal against UL-Lafayette.
The Mountaineer defense will be put to the test next in their games against Arkansas State and UL Monroe on Sept. 30 and Oct. 2.
Story by: Monica Crawford, Sports Reporter