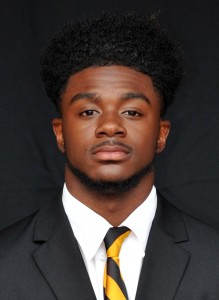 Appalachian State University football sophomore defensive back Brandon Pinckney will miss the entire 2015 season due to a right knee injury sustained in practice, head coach Scott Satterfield said in a press release early Monday.
Pinckney injured his knee during a non-contact drill Saturday, Aug. 8, according to the release. Late last week, it was determined the injury would require season-ending surgery, which Pinckney will undergo this week.
The sophomore corner entered preseason practices as the favorite to fill the void left by three-year starter Joel Ross, who was drafted by the Dallas Cowboys in the 2015 NFL Draft. It was the team's only defensive position that did not return a starter.
Pinckney played in 10 games last year, primarily on special teams. He recorded three tackles last season, one in the home-opener against Campbell and two against Troy, when Ross was ejected for a helmet-to-helmet hit.
"Brandon had a great offseason and worked hard to put himself in position to be a starter this season, so this is a big blow for our team," Satterfield said in the press release. "However, injuries are a part of football. We have some depth at cornerback, so I'm confident that someone will step up to fill that role. More importantly, our thoughts are with Brandon as he prepares for surgery and begins his rehabilitation to get back on the field in 2016."
Story: Chris Warner, Sports Editor
Photo: David Scearce, Appalachian State Athletics