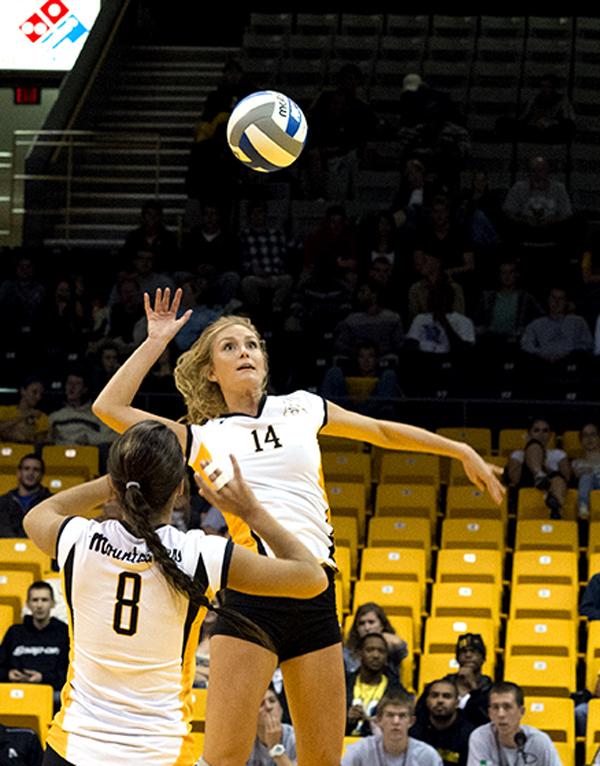 ASU beat NC A&T in three-straight sets during Tuesday's first home volleyball game.
NC A&T led during the first set with a 3-2 score, but that was the only time the team pulled ahead.
"We played our last 13 matches on the road," Head Coach Matt Ginipro said. "So, it was nice to play on our home floor before hitting the road again this weekend."
Freshman server Paige Brown led the team with 25 assists, five digs and two service aces. Sophomore outside hitter Lindsey Sauls had 12 kills and transfer Dalton Tolliver had 11 kills, four digs and two blocks.
But despite the win, Ginipro said the team did not look as impressive.
"I thought we were just sloppy, just overall sloppy," Ginipro said. "We had the opportunity probably to just really work on being clean, executing on every contact and I didn't think we did."
Ginipro said the team needs to work on being cleaner with their serving and ball control.
"I didn't think that we executed all of our contacts really well," he said. "I thought we had some spurts of it. It needs to be all the time. I don't think we played with a lot of energy tonight being home tonight for the first time in 13 matches."
Brown said it was "refreshing" playing in the home gym.
"It made me feel at home and it helped me play a better game because its the atmosphere of how we practice," Brown said. "It helped translate our really good practices before the game, to the game."
Although the team was playing against a winless Aggie team, Tolliver said they did not take it for granted.
"We knew that they were 0-16," Tolliver said. "A team like that is out to beat everybody they play and they are out to be vicious and get you, so we knew we had to be very serious in our preparations."
The team will travel to take on Chattanooga Friday at 6 p.m.
Story: JAMES ASHLEY, Sports Editor
Photo: OLIVIA WILKES, Photo Editor