Different ways to spend Valentine's Day
Couples are making reservations, buying stuffed animals and sending out flowers for Valentine's Day this weekend. But not everyone likes the traditional dinner and a movie. Some people want to celebrate by doing things a little differently.
Students are trying to find ways to celebrate the day with loved ones, searching for something to do with friends or still haven't found quite the right person to celebrate the holiday with. Here are some nontraditional ways of celebrating Valentine's Day in Boone.
Valentine's Special Workshop: Genus Dance Crew
The Genus Dance Crew will be giving students an opportunity to go out and learn how to dance Friday night from 2-5 p.m. There will be a variety of classes for anyone who wants to participate in the Varsity Gym room 208A.
There will first be a Latin dancing class from 2-3 p.m., a modern dancing class from 3-4 p.m. and will finish by hosting a reggae dancing class from 4-5 p.m. The event is free for all students, though donations are appreciated.
Roberto Bell, a sophomore dance studies major who is a member of the Genus Dance Crew, said that it was a relatively new club on campus that began in April 2015. The styles of dance they focus on include modern, jazz, cultural, hip-hop, line and majorette.
"We are portraying seductive dance in different styles," said Belle. "It is great for connecting with your partner and exploring each other's bodies. Plus, it's fun."
Sadie Hawkins Dance: Reformed University Fellowship
For a more retro approach to celebrating Valentine's Day this weekend, ladies are welcome to ask the guys to the Reformed University Fellowship's third annual Sadie Hawkins dance on Feb. 12.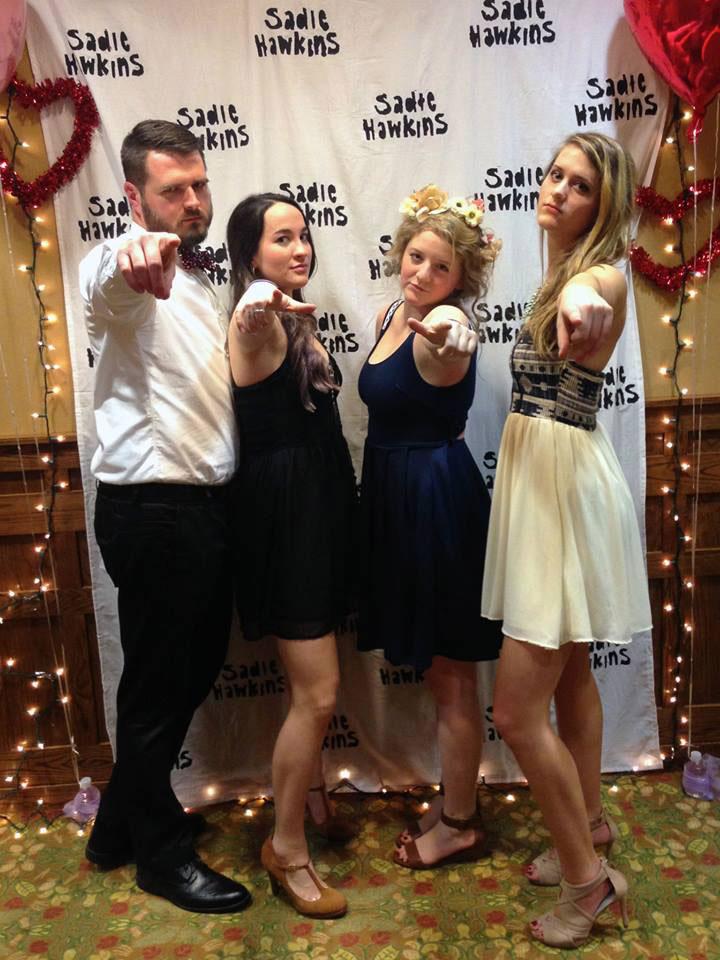 Brooke LaMachio, a freshman majoring in political science, said that she heard about the event at one of the RUF meetings during their announcements. She said that she has been taking dance classes with the Swing Dance Club and was looking forward to dancing and socializing with her friends from RUF.
She has already found a date for the event. Though she said it was nerve wracking being the one to ask, she was excited because she got to get creative with how to ask him.
"I took a piece of poster board and cut it into four pieces, painted 'Sadie Hawkins Dance?' on each piece, hung them from the lights on my ceiling and then invited him into the room," LaMachio said.
The Sadie Hawkins dance will be from 7:30-10:30 p.m. at the Chetola Resort in Blowing Rock.
Twice Upon A Prom: LGBT Center
It's time to dig out old high school prom dresses and wear them one last time before taking them to Goodwill. The LGBT Center will be hosting its 'Twice Upon A Prom," a second chance for anyone to enjoy prom regardless of their sexuality, in the Solarium in the student union on Friday.
This is an opportunity for students to get their money's worth out of that old dress sitting in the closet, to find the right date to enjoy the night with and to have all the fun that they had back in high school.
Formal wear is optional for this fairytale themed prom, and there will be a DJ, some light refreshments and a photo booth. The event will be partnering with the Vagina Monologues, and if students bring their tickets from the show, they will receive a free goodie bag at prom. Students who are interested can sign up on the club's website.
"It's the first time we're doing it," said Casey Maslow, a junior majoring in psychology who works at the LGBT Center. "It is another chance because generally high schools don't let students bring their [same sex] partners to prom. It gives them a chance to wear what they want and bring who they want to bring."
Don't Hate, Speed Date: the Appalachian Rollergirls
The Appalachian Rollergirls are there to help prevent anyone from being lonely on Valentine's Day. The rollergirls will be hosting speed dating for all sexual orientations at Cafe Portofino on Sunday from 6-10 p.m. The event is for those 18 years or older and costs $10. Students can find information on how to RSVP by visiting the rollergirls website or the event facebook page.
Sarah Holt, one of the Appalachian Rollergirls who coordinated the event, said that the proceeds from speed dating would go towards the team's home bouts. Proceeds from the home bouts will go to a local charity.
"It's a great way to spend Valentine's Day because you'll be spending it with the rollergirls. Quite a few have signed up to participate," Holt said. "It's great for single people and even people that are just interested in making new friends. Our event last year was a huge success and a lot of fun."
By: Molly Flinchum, A&E Reporter