Director hopes to up enrollment of Watauga Residential College
Since becoming the director of Appalachian State University's Watauga Residential College in July, Clark Maddux has been focused on bringing further visibility to the program.
Maddux, who was previously Appalachian's director of civic engagement, has been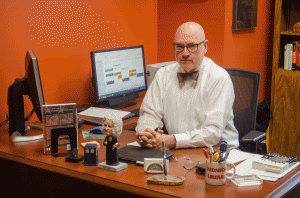 employed at Appalachian since 2012, and before that, he worked at Austin Peay University where he was instrumental in developing their service learning program.
"What universities ought to do is provide a superior undergraduate education, [and] help the students in the university become the next leaders of the republic," Maddux said. "Residential colleges began by devoting themselves to that way of thinking about higher education."
Watauga Residential College is a unit within Appalachian's College of Arts and Sciences that provides interactive, interdisciplinary, internationally-focused and challenging courses that require students to use information in new and creative ways, according to www.watauga.appstate.edu.
Residential Colleges are programs within the university that concentrate on integrating academic and co-curricular programs, according to the website.
Maddux said the university is gradually changing its approach to general education to make it more inquiry-based as a whole, and the updates to the curriculum should be completed by the 2016-17 school year.
"We're developing a general education focus around the issue of inquiry-based learning," Maddux said. "So some of the things will not change. The core classes that have always been part of the Watauga [Residential College] experience remain. But, other classes will become more specifically focused on questions of 'What does it mean to conduct inquiry in literature or history or the arts or social sciences?'"
Maddux said he respects the work the previous directors have done for WRC and hopes to keep their traditions alive while continuing to bring further visibility to the program.
"I've been surprised, even in just the two years I've been on campus, how many students and faculty don't know anything about Watauga," Maddux said. "And I just think it is one of the most unique, distinctive, interesting programs that Appalachian State has."
Maddux said he has begun working with University Admissions to advertise the Watauga Residential College as one of the signature programs of Appalachian in order to bolster enrollment. While he hopes to increase enrollment, he does not want the program to lose its personal aspect as a result.
"Watauga [Residential College] needs to find the balance to have a vibrant community, but not to have too many students, because there needs to be an opportunity for the faculty to know [the students] personally, and the other students need to have the opportunity to know you personally," Maddux said. "We don't want to grow so much that we lose touch with those kinds of things."
Maddux said the ideal number of students for the program is around 140-150 students, but right now there are approximately 110 students enrolled. Maddux is optimistic about his initiative to increase enrollment and said he expected it to reach his goal by next fall.
One of the ways the WRC hopes to achieve this is by putting an emphasis on experiential learning, where students are able to practice what they learn through application, rather than just reading about things theoretically in the classroom.
An example of practicing through application was a WRC class that was learning about immigration policy took a trip to Washington D.C. and talked to congressional staffers and foreign justice workers. The class also hosted former congressmen who spoke to the class through a program called Congress to Campus.
"The key idea of experiential learning is that students aren't just passive receptors of learning," Maddux said.
Maddux also said one of the key tenets of the WRC is developing close personal relationships between students and professors through inquiry-based learning.
"We approach learning not from the standpoint of, 'I'm going to provide answers to students,' but, 'I'm going to explore with my students and help them learn how to ask the right questions,'" Maddux said. "So professors in Watauga [Residential College] see themselves, and students seem to see us, as facilitators of learning rather than experts, although we are experts in our field."
Story: Thomas Culkin, News Reporter