After months of planning, a date has been set for this year's Diversity Celebration at Appalachian State University, an annual event put on that showcases the diverse traditions and cultures represented at the university.
April 14, from 9 a.m. to 3 p.m., students, faculty and public supporters are invited to enjoy the various performances, arts and crafts, educational exhibits and ethnic foods available at the event.
The Celebtration will be located in various rooms throughout Plemmons Student Union, and will be free and open to the public.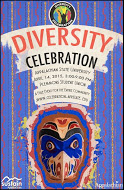 The Diversity Celebration's purpose is to give the campus and the Boone community the opportunity to experience different cultures, though the university is somewhat limited in experiences with different cultures due to location, said Everette Nichols, interim assistant director for multicultural student engagement.
Earlier this month, the committee in charge of planning the festival, along with university partners and regional funders, gathered at Roess Dining Hall to taste test options and decide on the event's menu.
Six different cultures were represented in the menu and 2,000 servings of each food item were provided for the tasting event. The food was based on dishes from countries ranging from Canada to Thailand.
The dish selection included: Tarte au Sucre, a French Canadian maple syrup pie; tequenos, a Venezuelan bread dough filled with cheese; Middle Eastern spicy roasted chickpeas;   Horchata, a traditional Latin American beverage consisting of almonds, vanilla and rice or barley; South African pampoenkoekies, a type of pumpkin fritters and Thai chicken wings.
"This is the official food for the diversity celebration that's going to be featured, and every year the food is a little different, coming from different cultures and everything," Nichols said. "The campus dining caters it every year. They push themselves culturally with the different foods."
Nichols confirmed that these dishes will represent the event's official menu.
"We try to pick different areas," assistant director of food services Charlie Wallin  said. "We don't try to just stick to one area of the world. It's just a lot of research, making sure we're being as authentic as we can be."
Story: Molly Flinchum, Intern A&E Reporter