Donovan Gregory adds to his Mountaineer legacy
Over the last four years, 6-foot-5 recreation management major Donovan Gregory has made his mark on the App State basketball program, being the only Mountaineer in history with 1,000 points, 500 rebounds, 300 assists and 150 steals. 
Gregory, who shared the court with Black and Gold legends like Justin Forrest and Adrian Delph, has blossomed into the all-around player the team relies on. 
"His entire game has just grown so much," head coach Dustin Kerns said. "He's one of 35 players with 1,000 points, but he's also got 500 rebounds along with a ton of steals and almost 300 assists. I think he's a Swiss Army knife, so he's really good at everything, especially winning." 
With this growth, Gregory has also become the Mountaineers' on and off-court leader throughout the season. 
"He's tough on you," sophomore guard Terence Harcum said. "Coming in last year as the new guy, he just instills this culture in you."
Coming out of Carmel Christian Academy as the 10th ranked player in the state, according to 247Sports. Gregory received offers from his hometown university of Charlotte, but always felt like Boone was his calling. 
"It was just a good fit," Gregory said. "Coming to the basketball games and football games growing up, it just felt like home."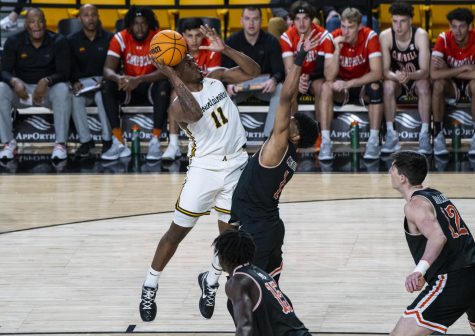 His freshman season saw little involvement from the guard/forward, as he averaged just 10.4 minutes in 24 games throughout the season. 
Gregory broke out and became a full-time starter during his sophomore year, reaching 10.7 points per game and a respectable 2.4 assists per game. He also took his game on the defensive side of the ball to new heights, averaging 1.9 steals per game. 
During his sophomore season, the Mountaineers won the Sun Belt Championship. Gregory shined defensively, netting 14 steals over the conference tournament, including eight against Coastal Carolina in the tournament semifinal, where he became the first Division I player in over a decade to put up at least 14 rebounds, eight steals and six assists in a game. His eight steals are also tied for the second most ever in a game by a Mountaineer.
"Winning the Sun Belt was great," Gregory said. "That was just a very tough year for me and the team with COVID, so to see all that hard work pay off was special." 
His junior year was consistent with his previous year. He averaged 10.9 points and continued hounding people on the defensive end. Gregory's decision-making with the ball in his hand was improving day in and day out. He achieved a career-high 23 points against Arkansas-Little Rock and a career-high in assists against South Alabama with 10. 
That 10-assist night sparked a six-game stretch in which he put up a combined 32 assists, the most of a stretch thus far in his career. Those playmaking abilities gave Kerns the faith to hand over the offense to Gregory in his senior season. 
"It's extremely important to have a playmaker at his size," Kerns said. "He's a tough matchup with him being one of our best ball handlers. He's just a high IQ passer as well."
Gregory has made the most of his on-ball duties as he's leading the team in points at 12, assists at 4.3 and steals at 1.7. His 4.3 assists are good for sixth in the entire Sun Belt Conference. 
"These past couple of years I've been more of a playmaking forward," Gregory said. "This is the first year where I've been the go-to playmaker, but this wasn't new to me. I played a lot of point guard in high school, so it was just watching film, breaking down defenses and getting myself back in that rhythm." 
Other than being the team's leader, Gregory has been described as the team comedian and someone who keeps the vibes right in the locker room.
"He's just a really funny guy. Always in the locker room cracking jokes, he's my guy," Harcum said.
When asked, players and coaches described him as one word and one word only: "Winner," and it's hard not to see why. 
Gregory helped App State come out of these dark years in the men's basketball program, won a conference championship and took the Mountaineers to their first NCAA tournament since the turn of the millennium.
"It means a lot to be a Mountaineer," Gregory said. "Just being able to be a part of the change in App State basketball means so much to me, and I take a ton of pride in it. The school means a lot to me, and I think I show that every night."