Dream the Impossible: Former standout honors late friend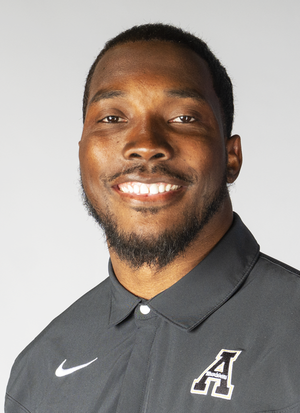 One athlete's dream to play football at the highest level was realized after his time as a Mountaineer, going on to play six seasons in the NFL. However, when tragedy struck, his legacy became much more than what he left on the field. 
Former App State football safety Douglas Middleton lost his best friend AJ Morrison to suicide after a five-year battle with depression in 2017. 
"Losing my best friend, the person I grew up with, we shared a lot of firsts together; the person that always had my back and we went to high school together, lived in the same neighborhood. We were childhood best friends and we maintained that friendship for 20-plus years," Middleton said. "Losing him really motivated me to create a change in the community."
That change was Dream the Impossible, a nonprofit organization dedicated to raising awareness for mental health in the African American community as well as providing support for student-athletes. 
Additionally, they aim to help reduce the rates of suicide, particularly in the Black community. Suicide was the second leading cause of death for people ages 10-34 in 2020, according to the American Foundation for Suicide Prevention. Erasing the stigma surrounding mental health has been one of their top priorities.
"The only thing I know in my community was you don't really speak too much about mental health, or you don't talk about it as much," Middleton said. "For me, my motivation for the last four or five years has been to change that. I want to change that. I want to have that conversation. I want people to be able to say 'I'm going to see my therapist,' or 'my mental health is not in the best state.'"
This past year, Dream the Impossible hosted three events in an attempt to raise awareness toward mental health. The first was Men and Their Mental Health, designed to help with speaking up on any struggles they were facing mentally. It was held May 26 in Charlotte.
In June, Dream the Impossible hosted the Dreamers Football Camp in Matthews. The camp included more than just football drills, covering the topics of financial literacy and mental health. The camp also featured a few guest speakers, allowing the student-athletes in attendance the opportunity to learn about life beyond just being an athlete. 
Following the Dreamers Football Camp, the foundation hosted the second annual You're Not Alone 7 on 7, in Kernersville June 18. The event dove into the importance of being a good person, supporter, friend and teammate in addition to helping raise awareness for mental health.
"There is not one solution to every mental illness or mental health challenge," Middleton said. "Whether it's medicine that works for one person, it should work for everybody or if this therapist works for one person, it works for everybody. That's not true."
Middleton was honored by the university with the App State Young Alumni award for his commitment to raising awareness about mental health as well as providing resources. The award was established in 2004 and is given for those who have given service toward the university and career accomplishments. 
In October 2022, App State athletics brought on Middleton as a special assistant to the athletic department.
"I look forward to being a part of the growth and maintaining, and exceeding, the success we have had to date," Middleton said.
Middleton's focus is aimed at assisting with multiple projects such as student-athlete development, recruiting, fundraising and mental health advocacy.
"With his experience as a student-athlete and a professional athlete in addition to many other talents, Doug will be an asset to App State athletics in a variety of areas," App State Director of Athletics Doug Gillin said. "He has been a tremendous ambassador for the Mountaineers over his years as an alum, and we're excited for him to officially join the staff and help App State reach new levels of success."
Middleton earned first team All-Sun Belt honors in 2014 and an All-Conference honorable mention in 2015. After going undrafted in 2016, Middleton signed with the New York Jets, where he played in different stints until 2019. Middleton then signed with the Miami Dolphins before being released and signing with the Jacksonville Jaguars. Middleton spent time with the Tennessee Titans, Carolina Panthers, San Francisco 49ers and played a second stint with the Jaguars. 
"I hope to serve as a resource and a connection for all current and former student-athletes, members of the community and App State alumni," Middleton said.