Drop art like it's hot
Artists of Boone scattered their works across the ASU campus and posted the secret locations of hidden art on the "World Art Drop Day" Facebook page on Sept. 6. 
Created by illustrator Jake Parker, who has worked on films such as "Rio" and "Epic," World Art Drop Day takes place annually on the first Tuesday of September. On his website, Parker described the intention behind the day stating, "we need to feel a little more connection to each other and there's nothing like the bond two random strangers can make through the act of creating and giving."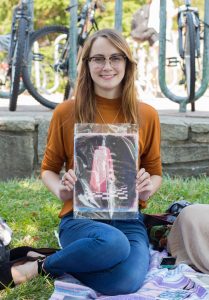 On this day, artists of all mediums took pieces of artwork, placed them in plastic bags for weatherproofing and hid them around campus. Artists took photographs of where their work was hidden, wrote a brief description of the piece's location and posted it on Facebook. Afterwards, other community members search for the piece and respond to the artist once the piece has been found.
The event is not limited to just art majors and professionally trained artists. The event is open and encourages "everyone who creates," Parker noted on his personal website. Additionally, any and all mediums of work can be contributed. Shauna notes that poetry, posters, photographs of dogs, mandala doodles and music albums are only a few of the many different types of pieces that have been found.
The event was first brought to App's campus by Katrina Plato, a professor in the art department. She had her class participate in fall 2015 and with the help of senior studio art and art education major Shauna Caldwell, she organized a spring Art Drop Day so more students could get involved.
At least 300 students checked in to the spring 2016's ASU Art Drop Day's Facebook page. This semester, the fall event's Facebook page counted 312 attendees that checked-in.
Even though both events have been on campus, participation was not limited to students; anyone in the Boone area was encouraged to participate.
To the amusement of students, several visual arts professors dropped pieces this year. Katey Cartwright, a senior sociology major, excitedly found a print hidden near the Schaeffer Center by instructor Jessica Owens.
As art was found throughout the day, students, faculty members and Boone-dwellers alike posted on the event page, sharing photos of art and noting where pieces were hidden and when they were found.
Caldwell said she remembered how excited the students were when searching, and how they moved together in groups. Caldwell recalled seeing groups of students searching for art together last semester, and described seeing a group find a 6-foot charcoal piece.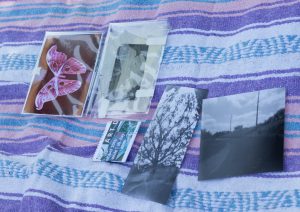 "It was so touching to see how they reacted when they found it. It was great to be a part of that and watch people finding art," Caldwell said. "You can feel yourself finding things, but it is rewarding to watch someone else and their experience."
Caldwell dropped four handmade paper pendants across the campus, along with two original prints.
"It's a way for us all to come together and connect through what we're making, and it's a different experience to make something for a total stranger than to just make something for yourself," Caldwell said. "I think having that experience gives us a greater connection to each other just because it could be anyone who finds your work."
Caldwell said she plans to hold another campus-wide Art Drop Day in the spring.
Story by: Mary Elizabeth Myrick, A&E Reporter
Photo by: Aaron Moran