East Coast Road Team for END IT makes first tour stop at Appalachian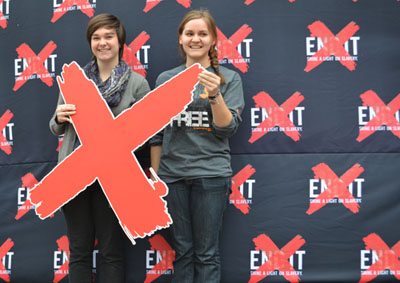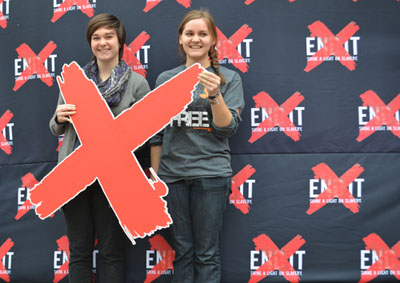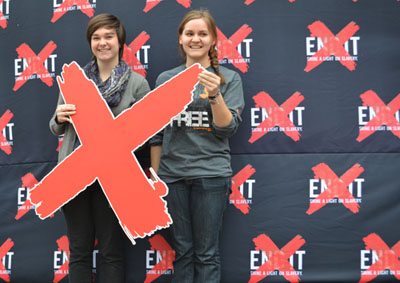 The END IT East Coast Road Team made the first stop on its tour at Appalachian State University on Monday, setting up a photo opportunity for students to take photos supporting the END IT movement.
The END IT movement's mission is to show every man, woman and child that "there are 27 million men, women and children just like them living in the shadows" and to "shine a light on slavery" happening in 161 countries, according to enditmovement.com.
The END IT movement is coalition that partners with Made in a Free World, International Justice Ministry, Free the Slaves, Not for Sale, Polaris Project, the A 21 Campaign and Love 146, according to enditmovement.com.
Member of the East Coast Road Team Kevin Rowe said the END IT movement and its seven partners have worked "to bring awareness and an awakening to our generation, to our nation, that there are 27 million slaves right now." That's more than there's ever been in history.
Rowe said the team has information and resources to try and help people do what they need to do to get the word out and raise awareness.
"We are not a movement looking for money, we are not trying to get email addresses," Rowe said. "We are quite literally sharing a message and most people's response is 'Wow, I didn't know that. What can I do to help?' and that's what we are here to do."
Member of the East Coast Road Team Todd Linder said the team chose to come to Appalachian because of the university's students' attendance at the Passion 2013 Conference held this past January in Atlanta, as well as Appalachian's chapters of International Justice Mission and Invisible Children.
Linder said their reception on campus was phenomenal, with around 80 students stopping by the group in the first hour.
Linder said the team focuses on educating about three main types of slavery: human trafficking, bonded labor and forced labor.
Linder said human sex trafficking is the primary version of slavery in America.
Sophomore child development major Sarah Cartee said she stopped by to take a photograph because she had heard of END IT when she attended Passion 2013 and said they emphasized "modern-day slavery and it is just an important issue that we need to take care of."
"And so I wanted to take a picture," she said.
Students who had their photo taken can put it on any social media account to help spread the message, Rowe said.
Story: STEPHANIE SANSOUCY, Senior News Reporter