For the past few weeks, Appalachian State's Women's Inclusive Theater Troupe has been rehearsing for their latest play.
Written, directed and performed by Appalachian State students, W.I.T.T. is set to open "Phyllis Kugler, Eat Your Heart Out" on Feb. 9-11.
The play is set in the 1950s and centers on six diverse female boxers. Student director and senior theater performance major TJ Lewis said these women are trying to score opportunities in the Manhattan area, but conflicting forces such as illegal immigration, prominent sexism and racism provide constant hoops for the women to jump through.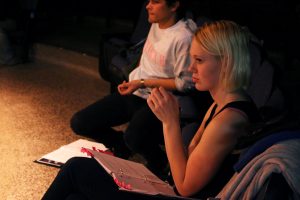 These women use boxing as a means of escaping the outside world and to overcome the forces telling them they are not good enough, Lewis said.
"It's set in the 1950s, of course the play attacks segregation issues: [such as] gender, race," senior theater performance major Kenny Petroski said. "It really talks about women; powerful women wanting to belong and people trying to hinder that. Those things still happen today."
Petroski's character, Frank, owns the boxing gym in which the women practice. Petroski said Frank sees himself as a guardian of sorts over these women.
"We're similar, Frank and I, because we're both nurturing, down-to-earth people who can also be hard asses," Petroski said. "We're different in our qualities of life. Frank can be naïve. He lives day to day. He's a bit of a simpleton."
Senior English major Leia Gearhart plays the Russian illegal immigrant in question, Nadezhda. She has been in W.I.T.T for only one semester, but has seen every performance they have put on.
Throughout the play, American immigration authorities are trying to track Nadezhda down and deport her. Sophomore English major Logan Frazier plays the antagonist, Raymond, who routinely checks in at Frank's boxing gym to threaten and scare Nadezhda.
"Everybody hates Raymond," Frazier said.
Sophomore social work major Koria Johnson plays self-proclaimed feisty boxer, Beverly, who is loyal to her friends and always stands up for what is right.
"This play definitely deals with physical and emotional girl power," Johnson said. "Very feminist."
Johnson's character repeatedly comes close to trouble while standing up for her friends. Being black and a woman, Beverly is constantly on her toes.
"It's always a bad time to be an immigrant [in America]," Johnson said as Beverly.
Virginia Riggsbee, a sophomore theatre major, has been a part of W.I.T.T for two years. Riggsbee describes her character, Melinda, as incredibly complex. She is the "typical girly girl," enjoying makeup and jewelry but also displaying incredible strength and toughness.
"She is very passionate about makeup," Riggsbee said. "She has a whole monologue about how great makeup is. We both love makeup, but she thinks appearances are the most important part about a person and I don't. She does see the goo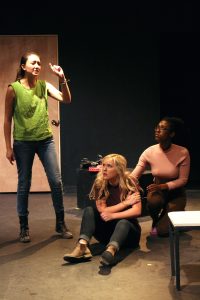 d in people's hearts, but she really cares about what's outside."
Her character's complexity is part of what makes her character great, Riggsbee said.
Junior history education major Anna Allman plays a wheelchair-bound girl named Patsy. Allman has done theater since high school and though she is not studying it professionally, it is something she wants to stay close to.
"It's something I get a lot of enjoyment and fulfillment out of," Allman said. "I think it's important to have a professional and recreational life."
Junior theater major Breanne Hollis plays Joan Matthews, a loving and gutsy female boxer also training at Frank's gym.
Hollis said while she admires her character, she and Joan are not similar at all.
"We're incredibly different, down to absolutely everything," Hollis said.
This being a story about female boxers, the fight scenes had to be precisely choreographed. Senior theater major Tyler Pope specializes in fight choreography and considers himself quite the "boxing dramaturge."
Jaraad Samad, a senior creative writing major, is the assistant director for the play. He is in his second year with W.I.T.T. and although this is his first time assist directing, he said he would love to do it again.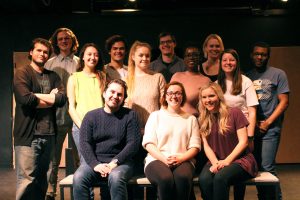 The play includes people of different colors, nationalities and circumstances. Though the play is set in the 1950s, actors, writers and directors alike all agree it has a thoroughly modern, familiar feel to it.
"Phyllis Kugler, Eat Your Heart Out" was written by Appalachian State alumnus Bridget Mundy and runs Feb. 9-11. Doors open at 7 p.m. and curtain rises at 7:30 p.m. in the I.G. Greer studio theater. Admission is $5 for students and faculty and $6 for others.
Photos By: Rachael Graham, Staff Photographer