Elderkin already motivating Mountaineers
App State women's basketball is eager to start its first season in the Sun Belt Conference under their new head coach Angel Elderkin.
In September, former head coach Darcie Vincent resigned from her position along with assistant coaches Heather Kearney and Katherine Katz. Assistant coach Jessica Jackson is the only remaining assistant coach from last season.
The team is excited to welcome Elderkin to the Mountaineers family for the start of the 2014-15 season.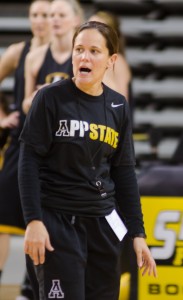 Senior forward Maryah Sydnor said the entire team gave Elderkin a very warm welcome upon her arrival.
"[Elderkin] walked off the elevator and we were all standing in the room and one-by-one, she got the biggest hug she's probably ever had from each of us," Sydnor said. "We were all very excited to see her."
Junior forward Bria Huffman said that the team wanted someone who is family-oriented and passionate about the players. Elderkin possesses these qualities and more, Huffman said.
Along with Elderkin, the Mountaineers have also welcomed two new assistant coaches, Emily Roberts and Sean Costello, as well as four new players.
Freshman guards Katelyn Doub and Madi Story as well as Peggy Smith and Vernessa Hinnant – two juniors who transferred into the program – make up the four new players for the Mountaineers.
App State will have a new look from a coaching standpoint, but will also play a completely new style of basketball with the switch to the Sun Belt.
Elderkin said that most of the teams in the Sun Belt are very active and accurate 3-point shooting squads. Recently, Elderkin has been working on new six-second shooting drills that are designed to help improve shooting percentage.
"I think what you're going to find in me is a positive motivator who is going to do everything to get the most out of the players in a positive way," Elderkin said. "They're going to be held accountable, but it's going to be in a loving way."
Elderkin comes to App State from her assistant coaching job at LSU, which she held for two seasons. Like her team, she is brand new to the Sun Belt Conference, but she said the training planned for the talented players she sees on the roster will bring the Mountaineers a winning season.
"It's definitely exciting to get to move forward and start our new season," Sydnor said. "We're ready to start it and excited to be going and moving on into the Sun Belt to show what we have."
The Mountaineers won their only exhibition contest of the season, throttling Lees-McRae 95-46 in Boone on Nov. 8. The team opens up the regular season with a road game against Kentucky Friday at 7 p.m.
Story: Jess Lyons, Senior Sports Reporter
Photo: James Johnston, Intern Photographer