An Evening of Elephants, Calligraphy and Kevin G. with Rajiv Surendra
In "Mean Girls," the character Kevin G. raps, "All you sucka MC's ain't got nothin' on me/
On my grades, on my lines you can't touch Kevin G." At the request of an audience member, actor Rajiv Surendra rapped these lyrics live to a crowd of App State students.
On Jan. 26, actor and artist Surendra visited the Plemmons Student Union to promote his new memoir titled, "The Elephants in My Backyard." The event was organized by CASE and Special Events with APPS, held from 7 p.m. to 9 p.m. in the Parkway Ballroom.
Surendra played Kevin G., the rapping mathlete in "Mean Girls." Surendra said that he became interested in acting as a teenager because of how it differed from the other art forms that were hands-on, such as pottery and calligraphy.
"Your audience couldn't see the work that you were doing," Surendra said.
After "Mean Girls," Surendra talked about how he spent five years preparing for an audition for the movie adaptation of "The Life of Pi." He traveled to India, learned how to swim and did additional research to try to best prepare for the role. Ultimately, Surendra said that he failed, and that the role was given to another actor.
Surendra said that he was originally attracted to audition for the role because a cameraman on the set of "Mean Girls" told Surendra that he reminded him of Pi. After reading "The Life of Pi," Surendra said that he agreed that he was incredibly similar to Pi. He grew up next to a zoo, just like Pi, and his family was Tamil and from Sri Lanka, also like Pi. Just as Pi explores multiple religions as a boy during the book, Surendra said that he was interested in both Hinduism and Catholicism when he was young.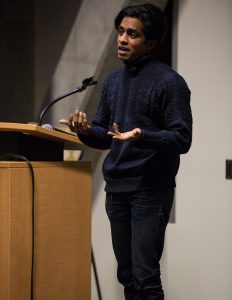 After losing the role, Surendra said that he wanted to run away from his problems. He spent a year working as an au pair for a family in Munich, Germany, and said that traveling allowed him to find himself during his period of grieving for the role of Pi.
Quoting Britney Spears, Surendra said that dreams mean that you "gotta work bitch."
While speaking, Surendra would point at his head, and say that his head was his greatest enemy. Surendra, while doing research for "The Life of Pi," talked with Steven Callahan, author of "Adrift" and survivor of being lost at sea for 76 days. Surendra said that in Callahan's book that he wrote about doing what he needed to do to survive in the moment. Surendra said that it was important to live in the present and to avoid being trapped in the past or the future.
Alongside his work as an actor, Surendra said that he has continuously worked on other art mediums such as pottery and painting. Lately, his main focus has been on writing his memoir and his calligraphy. Surendra, originally from Canada, said that he also has been a beekeeper and that he used to work at Pioneer Village where he spun wool and dyed it.
Surendra talked about some of his memories from "Mean Girls," and said that he originally auditioned for the role of Damien. He said that during "Mean Girls," none of the actors were famous at the time except for Lindsay Lohan for her performance in "The Parent Trap."
Near the end of the event, at the request of an audience member, Surendra rapped the Kevin G. rap from "Mean Girls." Afterwards, he took time to sign books that the audience purchased, stamping each book with a calligraphy mold that he created, in addition to hand lettering each student's name and taking photos with them. APPS also gave away four free books as a door prize raffle, which Surendra also stamped and signed.
Students, such as Camila Velasquez, senior communications public relations major, said that they were primarily familiar with his work from "Mean Girls." But, after hearing about the event, Velasquez said that she was excited about learning about his new book, and that she was familiar with some of his other art also.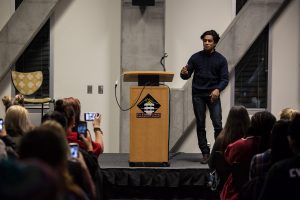 "He does hand lettering calligraphy," Velasquez said. "I looked at his Instagram and I also like hand lettering calligraphy, and so I kind of knew him from that."
Ashlynn Jones, junior computer information systems major, said that she knew Surendra from Mean Girls too, but that she was looking forward to hearing about his other personal experiences.
"I love hearing stories from all over the world, and hearing his experience would be a really great opportunity," Jones said.
CASE chairperson for APPS Stephanie Smith, junior psychology major, said Surendra has been touring colleges on his book tour, which led to his appearance at App State. The event was a collaboration between the CASE and Special Events team, and the teams try to plan events that allow students to appreciate different perspectives, Smith said.
"We focus on a lot more of the multicultural programming and education through that, as well as becoming more aware of diverse identities on campus, and involving students in those activities," Smith said.
This event was not just about Surendra's role as Kevin G., Smith said, but also about his career as an author and artist. Before the event, Smith said that she hoped that the event would allow audiences to see Surendra in a different light.
"I think a lot of people recognize him, and that's their first impression, 'Oh my gosh, Kevin G. from 'Mean Girls' is coming,' but that's not who he is," Smith said. "That's something that he's done, but be ready to hear about things that have happened since there as well because he's obviously been successful in different aspects of his life."
Surendra said that he specifically wanted to tour colleges because he wanted to encourage college students. During the event, Surendra showed a photo of him from "Mean Girls" playing Kevin G. with his quote, "Don't let haters stop you from doin' your thang."
Photos by Chris Deverell