The Everts era: Get to know Sheri N. Everts as she gets to know Appalachian State
Sheri N. Everts took her position as Appalachian State University's chancellor July 1, and The Appalachian sat down with her in her new office to discuss issues, excitement and plans for the future.
When Everts' appointment was announced in March, she said maintaining Appalachian's tradition was important to her, and now says her vision for the future is much in alignment with the university's strategic plan.
Everts said she feels that she is still too new to address what major changes need to be made in the university, but that she is listening and learning for now.
"I keep a journal of each and every conversation that I have," Everts said. "People have been very kind about offering their advice and their opinions. I'm pooling all of those together."
Resources and financial concerns were named as Everts' largest perceived problems that the university currently faces.
Appalachian's budget has been reduced by the North Carolina state government by more than $34 million since the 2008-09 academic year.
"I don't think it's unique to Appalachian," Everts said. "Resources are a challenge facing all of higher education."
She also addressed faculty loss, which former Chancellor Kenneth Peacock identified as an issue in April, after Faculty Senate Chair Andy Koch reported that the College of Arts and Sciences had lost 21 faculty members in the past year alone.
"I think the fact that there haven't been raises for some time is a contributing issue," Everts said. "We compete nationally for faculty, and if other states are not having these concerns because it's so competitive for faculty, there are some cases where states who aren't having difficulties with resources raid some universities for faculty."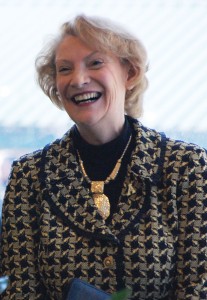 During her time at Illinois State University, Everts was a part of successful efforts to increase diversity of the student body, and said she plans on trying to apply the same to Appalachian.
"I think Appalachian recognizes how important that is," Everts said. "We'll all work together toward this strategic direction."
Everts also said she hopes to foster a more open administration in communication with the students in all her efforts.
"I think transparency is key," Everts said. "I think that ensuring that we share what we're doing and why and have lots of conversations about those issues is an important aspect of moving forward."
Everts said what she loves most about working with college students is their energy and enthusiasm.
"The zest for life, that exuberance about all things you encounter," Everts said. "I also really love the way you engage in civic responsibility and sustainability, and I know you're working so hard to make the world a better place. That excitement, I really appreciate it. I also love that you love Appalachian and it shows on your faces. It's infectious to be around and I gain energy from being around students."
Everts, a self-proclaimed "huge football fan," said she is very excited about the transition into the Sun Belt Conference this year.
"I think this can also help play a critical role in supporting the academic mission by providing students an avenue to earn a degree by rallying the community, engaging alumni and friends, and raising the visibility of our university," Everts said. "It's gonna be marvelous to watch games here, I hear it's just thrilling. I'm making certain I have plenty of black and gold for football Saturday."
Everts gazed out the window of her office from B.B. Dougherty, and commented on her new view.
"It's just beautiful," she said. "I have not gotten used to that being the view. The sky – you watch for five minutes, it's five different amazing scenes."
Story: Laney Ruckstuhl, News Editor