Everts gives lecture on leadership and diversity
Chancellor Sheri N. Everts spoke about the struggles, successes and lessons learned from her experiences as a first-generation college student and woman in leadership Wednesday night.
Her talk was a part of the Women's Studies Distinguished Lecture Series and was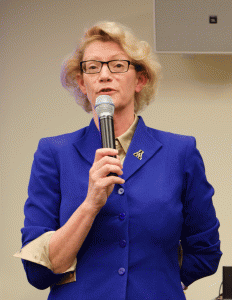 held in Belk Library Room 114 at 5 p.m. The series began Sept. 17 and ends Dec. 3.
Everts, the first woman to be chancellor at Appalachian State University in it's history, was introduced by Kim Hall, director of the Women's Studies Department.
Everts began her speech by discussing her childhood, spent on a farm in Nebraska with her parents and seven siblings.
Her mother had only an eighth-grade education, while her father had nothing beyond a high school degree. However, she said it was the two of them who pushed her to further her education.
"They were the most important mentors I had for the power of education," Everts said. "As soon as I can recall listening to them, they talked about when we went to college, not if. It was not a choice – we were all going, all eight of us."
She and her seven siblings went on to earn at least bachelor's degrees, though one of her sisters still runs the family farm.
Everts also discussed times she felt objectified and that she was not being seen as an equal as a woman in her positions of leadership.
"Throughout my entire career, I have often been the only woman in the room," Everts said. "Sometimes I've been the only woman on the floor and occasionally, I've been the only woman in the building. That's really a valuable learning opportunity, and I've always seen it as such."
Everts said when teaching eighth grade, she conducted research in which she asked her class to describe what they thought a professor looked like.
"All of them described a man, even though I was standing in front of them asking the question," Everts said. "I couldn't believe that's how they answered."
Everts said one of the most difficult struggles for her in both her career and life has been believing that she's worthy of her accomplishments, despite having earned them fairly.
"One of the hardest parts is to think that you have something important to say," Everts said. "It's the title, it's not me."
Everts also discussed her efforts to increase diversity at Illinois State University, where she last worked. She has announced plans to do the same at Appalachian, forming a student committee on diversity.
Everts plans on increasing the diversity of not just the student body, but also of Appalachian's faculty and staff, which she said adds a variety of perspective and voices to important conversations.
"Sometimes, people think that what we're saying is that we don't want men in [leadership] roles," Everts said. "That's not the issue at all. We just want lots of voices, it strengthens that conversation to have people sitting around that table."
Story: Laney Ruckstuhl, News Editor
Photo: Charlie Montero, Intern Photographer