UNC-system President Tom Ross installed Sheri N. Everts as Appalachian State University's seventh chancellor on Friday morning.
The Holmes Convocation Center hosted the procession that included musical performances from Appalachian choirs and ensembles. Guest speakers from state and local government, as well as representatives of faculty, staff, alumni and students, offered their congratulations to Everts.
Ross, who received a standing ovation from the audience, wished Everts success as chancellor.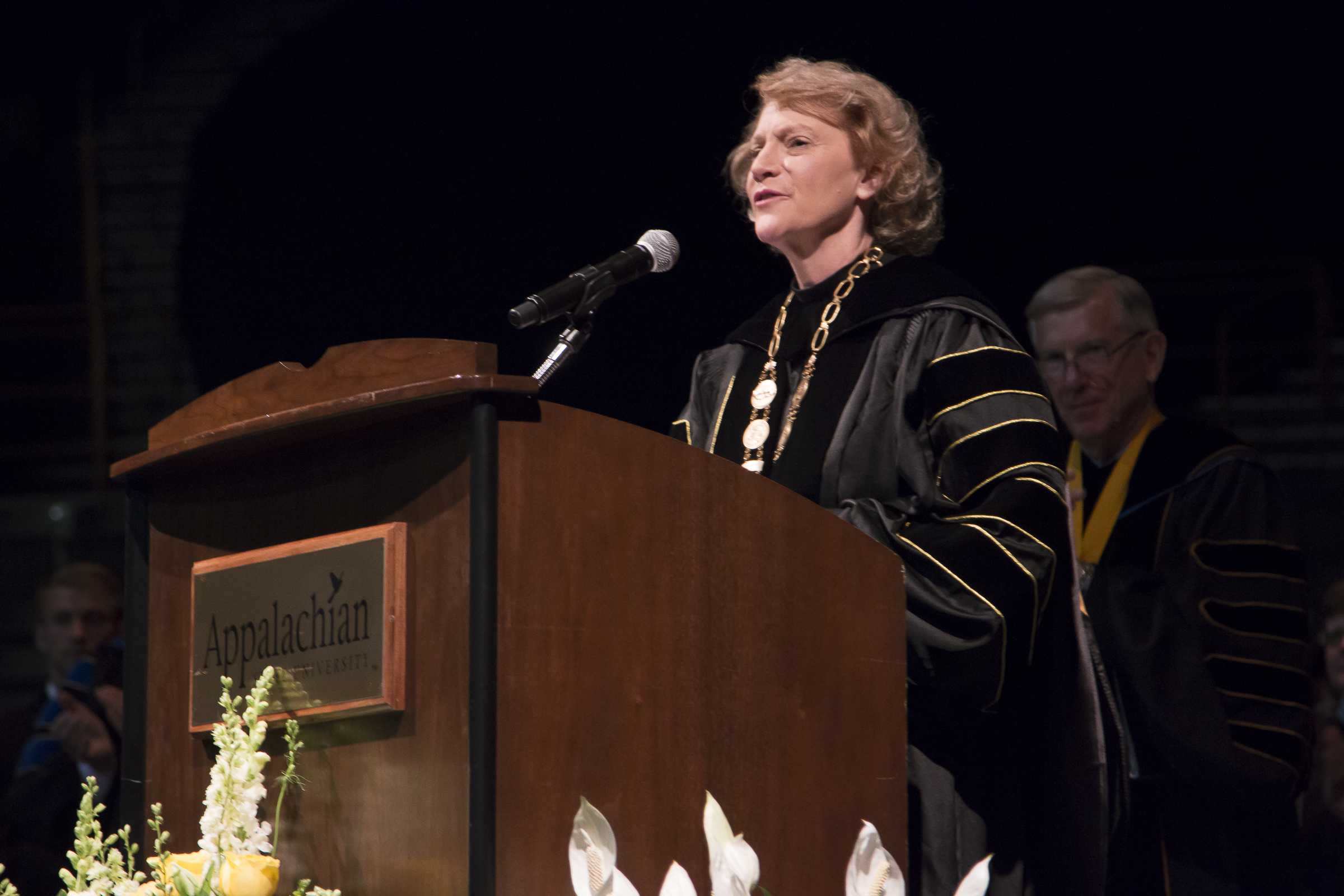 "There is not a doubt in my mind that Sheri Everts is the right person to lead Appalachian State University today and in the years ahead," Ross said.
Also speaking at the event, Gov. Pat McCrory announced a proposal to the legislation for $2 billion in bonds, $70 million of which he said would go to a new school of nursing and health facility at Appalachian if approved. The announcement, which he called a gift for Everts, was followed by a standing ovation lead by the faculty.
Joseph Dollar, a member of the General Assembly and Appalachian alumnus, spoke on behalf of the legislature.
"We in the General Assembly look forward to continuing to be your partner as you seek to fulfill the education commission of this wonderful university," Dollar said.
Faculty Senate Chair Andy Koch spoke on the difficulties Everts faces.
"I don't envy anyone in the role of chancellor today," Koch said. "It's a tough job."
Koch noted the responsibilities of Everts' position including continuing the university's educational mission and maintaining professional standards in research.
"This is a monumental task in the best of times," he said. "It seems like an impossible task during times of shrinking resources."
The ceremony closed with Everts' official installation as chancellor wherein she swore an oath on the university's founders' Dougherty family Bible.
Everts has been the acting chancellor for the university since July 2014. A native of Nebraska, Everts worked as provost and vice president for academic affairs at Illinois State University prior to coming to Appalachian. She is the school's first female chancellor.
Story: Joshua Farmer, Editor-in-Chief
Photo: Chris Deverell, Video Editor