Extinguishing the Flames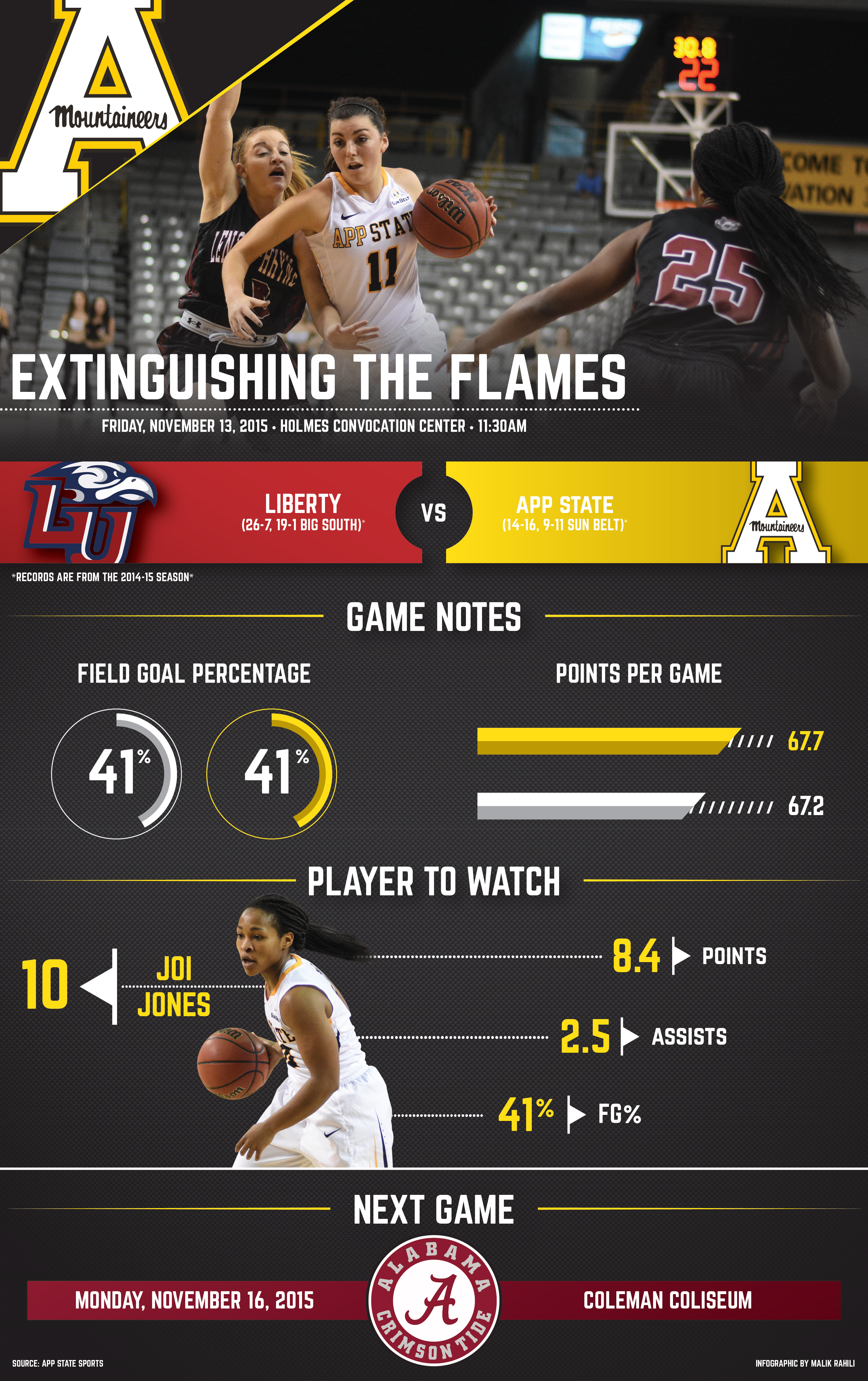 Growing in the moment
During Tuesday's basketball media luncheon, head coach Angel Elderkin said that her goal for the non-conference schedule they crafted was to test her team early in preparation for Sun Belt play later in the season.
Scheduling Liberty will likely be that, and then some, for the Mountaineers, as the Lady Flames return three senior starters from a team that nearly swept the Big South Conference last season and lost to University of North Carolina by only six points in the NCAA tournament.
Playing such an experienced team in non-conference play early in the season will be a good test for Elderkin to gauge the strengths and weaknesses of her growing team and make some major adjustments, if necessary, before heading into Sun Belt play in late December.
Filling the scoring void
Beginning Friday, we should start getting an answer to the question that everyone's been asking since May: who will fill the scoring void left by graduating seniors Katie Mallow and Maryah Sydnor?
A lot of expectation will be placed on point guard Joi Jones, the team's top returning scorer from last season who averaged a little under 10 points per game, but perhaps not as much as you'd think.
Elderkin said Tuesday that the 2015-16 team will employ a by-committee approach for scoring, rather than relying on two or three key players like last season. This game will allow us to see who, outside of Jones, we can expect to be a regular in the by-committee approach, and if, on scoring droughts, the team sticks to that mentality.
Reigning in Rininger
While the Lady Flames do feature three seniors in the post who stand 6-foot-4 or above, Big South Preseason Player of the Year Ashley Rininger definitely stands above the rest.
Last season, Rininger led Liberty with 12.8 points per game, shooting almost 52 percent from the floor, also a team high. She also tallied 295 total rebounds (8.9 per game), 97 more than any other Lady Flame. Oh, and she led the team with 53 blocks, 19 more than anyone on the roster.
My point? She's dominant. And while she can't be App State's sole focus on Friday, given the experience on Liberty's roster, stopping Rininger should be priority No. 1.
The Mountaineers will need the combination of senior post player KeKe Cooper and junior Ashley Bassett-Smith to be on their game, both defensively and in the rebound department, otherwise we'll be hearing Rininger's name early and often.
Story by: Chris Warner, Sports Editor