Faculty and staff compete in App State's NBA
For over 25 years, members of App State's faculty and staff have gathered to compete in the NBA: Noontime Basketball Association.
"This is special because these are guys from around the university and grad students … so you get to know what's going on in the university from a lot of angles," said Jim Garrison, retired professor of philosophy from Virginia Tech. "It's just fun. It's just a good bunch of guys that like to play street ball."
Noontime pickup basketball among university faculty, staff and graduate students takes place from noon-2 p.m. in the Student Recreation Center on Mondays, Wednesdays and Fridays. While their numbers have dwindled over the years, the group continues to play every other weekday.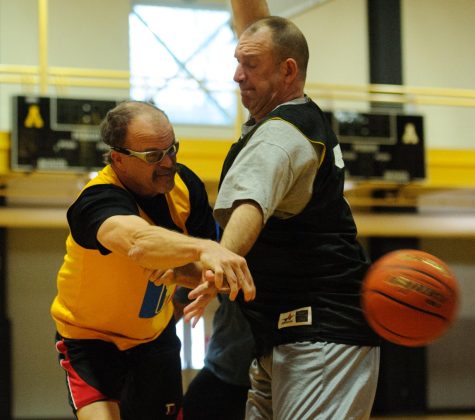 "I've definitely gotten better since I've been playing with these guys. It's kind of incredible the different range of capability out here," said Kyle McFarland, student supervisor for Belk Library. "It really brings out the best in you. I feel like whenever I'm up against some of these better players, it really does make me a better player as well."
Tim Huelsman, professor of psychology, has participated in App State's noontime basketball since arriving on campus in 1997. 
"When I was doing my interviews back in '97, one of the things I was looking for in a school was a noontime pickup game with faculty and staff, so on my job interview, they brought me out back in the old gym … where the cafeteria is now," Huelsman said. "I watched a game, and a few weeks later, I got the job. I've been coming out since the fall of '97."
Huelsman's basketball journey began in St. Louis where he fell in love with the game. He began playing around the age of nine and played through high school. 
"I grew up playing street ball back in St. Louis, and it's a rougher, more in your face game, so it's mellowed out a little bit here," Huelsman said.
When he initially joined the NBA, Huelsman was a young man in his late 20s. Now, 26 years later, he's had to adapt his game as he becomes one of the older guys on the court, as many other members of the NBA have. 
"We're always getting new guys … so I'm starting to feel the old," Huelsman said. "I've always been a shooter, so I haven't had to change much. Now I've got the old man, low post moves."
The NBA has seen several changes over the years, including a steadily declining population of faculty and staff that regularly attend the games. While there used to be two full courts running games with players waiting to get in, the group rarely has two 5-on-5 games occurring now. 
"It's interesting because it's the same thing that happened at Virginia Tech. I didn't retire until September of 2021, and the game did the same thing there," Garrison said.
Garrison is the husband of a professor in App State's English department, and he first played with the noontime basketball group in 2000. While at Virginia Tech, there was a similar group of faculty/staff basketball players whose numbers dwindled over the years. 
"Why that happened? I don't know," Garrison said. "Could've been facility change, something, but it's the same game. It's all faculty, staff and graduate students."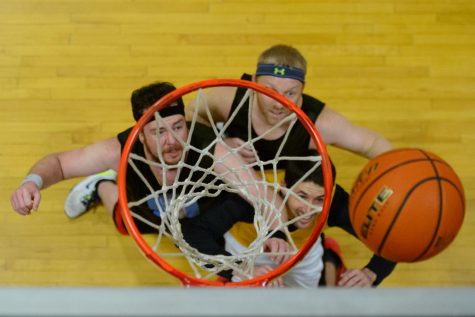 Even McFarland who came to App State in 2018, has seen the group shrink over his brief time at the university. 
"It's definitely shrunk a little bit ever since," McFarland said. "When I was first coming out here, we were consistently getting two full games through the whole period."
Despite a shrinking group, the NBA continues to survive through several decades as several staff and faculty members continue to come out multiple times a week, for varying reasons. 
"Most of these guys, if you would ask them this question: 'Do you like to jog?' the answer would be a fervent 'No,'" Garrison said. "I need a reason to run."
But most say it's the camaraderie and competition they just can't pass up. 
"It's just a great group of people to hang out with," McFarland said. "It's just a really good opportunity to reach out, to get out of the office. I work at the library, so the alternative is basically to sit in my office for eight hours a day, and I get stir crazy if I don't."
Another change in the App State NBA was a recent rule adjustment, where it was finally agreed upon to add the 3-point shot to their scoring, roughly 40 years after the National Basketball Association first introduced the line in the 1979-80 season. 
"Up until about three to four years ago, we didn't play the 3-point line," Garrison said. "So the 3-point line came in late for the old guys, like me."
Garrison boxed during his high school career and didn't pick up a basketball until he was heading into his senior year. As he grew interested in the game, Garrison modeled his signature shot after a Boston Celtics legend from the 1950s. 
"I'm 73 years old, everything happens pretty much the same, but a lot slower," Garrison said. "One thing that changed is I lost my hook shot. I used to have a running old Bob Cousy from the '50s hook shot. It's the last shot you want to lose for an old guy."
The NBA is formatted just like regular pickup basketball, where teams are drafted as fairly as possible and they play to a certain score. First team to reach the target score wins. 
"It's just like little kids on the playground. So these are just a bunch of guys who grew up and they're still pretty much kids," Garrison said. "It's really good camaraderie, it's a good bunch of guys too. Grown knuckleheads like I am."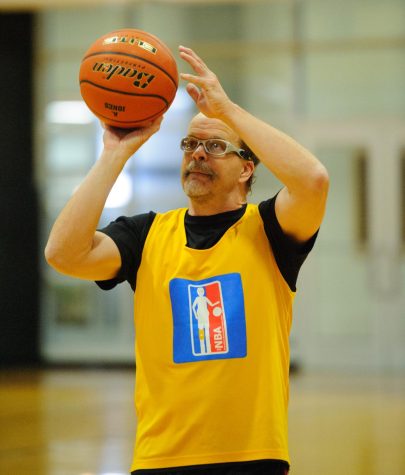 In general, the NBA is a group of older guys that love the game of basketball and the competition and camaraderie it brings, but don't take themselves too seriously. They're well aware of the comedic touch branding themselves as the NBA brings, and their jersey design embodies that. 
"We picked up uniforms about three years ago," Garrison said. "It's some old guys with knee braces, like I've got."
The jerseys are black and gold, and in the center is a logo similarly formatted and colored to the National Basketball Association's logo. Rather than the figure depicted being Los Angeles Lakers legend Jerry West driving, it's an old man with glasses and a knee brace on his right knee, as designed by Andrew Heckert, a vertebrate paleontologist and professor in the Department of Geological and Environmental Sciences. 
"Andy Heckert … decided we ought to not be shirts and skins anymore, which I think is a very fine idea," Huelsman said. 
The pinnacle of faculty and staff noontime basketball is known as 'the money game,' which takes place at the end of each day of games. 
"​​The games start around noon and usually winds up around 1:30, quarter to 2 with what they call the money game, which is the most competitive game of the day, especially on Friday because whoever wins talks trash all weekend until Monday," Garrison said.
Aside from hooping at the SRC on Mondays, Wednesdays and Fridays, the NBA fields an intramural team known as Staff Infection. 
Staff Infection tipped off its intramural playoff campaign March 7 as the No. 1 overall seed in the Friendly Division. Despite being much older than their competition, they swept through the bracket, winning each game by an average of more than 30. On March 9, Staff Infection thumped the Hoosiers 54-19 to conquer the Friendly Division and bring home another championship.