Faculty and student led Appalachian Climate Action Collaborative fights climate change
A movement addressing the urgency of climate change is prepared to leap into action this semester.
In October, more than 200 faculty, staff, students and community members attended a brainstorming session to lay the groundwork for local responsive actions. The discussions that began that day never ended. Those involved aligned themselves under a new name: the Appalachian Climate Action Collaborative.
The movement formed in response to the landmark report released by the Intergovernmental Panel on Climate Change, detailing the urgency in implementing "rapid, far-reaching and unprecedented changes in all aspects of society" to evade climate catastrophe.
The movement actively set about outlining its goals, designing an inclusive, sustainable leadership structure and reviving the university Sustainability Council. Large general assembly meetings and small focus groups met on a near-weekly basis to reimagine previous university climate neutrality efforts.
"This movement can complement, strengthen and expand efforts, by making it clear to the university that we, as a body of concerned students, faculty, staff and community members, call upon Appalachian State to commit to more vigorous action," sustainable development professor Jacqueline Ignatov said to kick off the November general assembly meeting.
December saw further progress toward a finalized climate action proposal to present to the Student Government Association, Faculty Senate and Staff Senate for approval.
The action proposal addresses existing pathways through which the university could achieve the movement's three central goals: reaching carbon neutrality by 2025, incorporating climate change and resiliency dialogue into curriculum and connecting with community groups in Watauga County through outreach.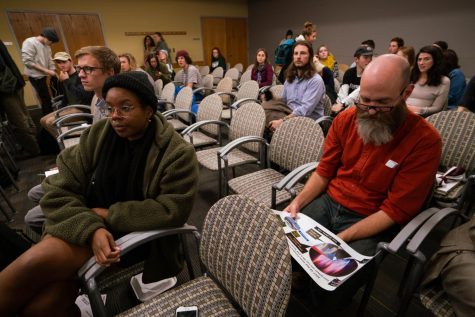 The goals build on obligations made by the university in its Statement of Sustainability and through its commitment to the University of North Carolina Sustainability Policy, which states that "the university shall develop a plan to become carbon neutral as soon as practicable and by 2050 at the latest, with an ultimate goal of climate neutrality."
Three action teams have sprung to life.
The Climate Neutrality Team prioritized a reanalysis of the university's climate commitments in light of recent scientific breakthroughs, released in the report and the second half of the Fourth National Climate Assessment.  These reports indicate that only 12 years remain to prevent catastrophic global warming beyond 1.5 degrees Celsius.
The team recently drafted a commitment for their goal.
"2050 represents the minimum under University of North Carolina System policy," the Appalachian Climate Action Collaborative website said.  "We cannot call ourselves a leader in sustainability if we are not at least meeting the standards set by the international scientific community, nor can we call ourselves a leader if we are aiming only for the minimum goal of the UNC System."
In 2010, the Office of Sustainability published Toward Climate Neutrality, a document displaying ideal projections of campus greenhouse gas emissions for the years 2009, 2015, 2025 and 2050. The office intended to routinely revise the Climate Action Plan, but so far has not.
At a Sustainability Council meeting, data and assessment specialist Jim Dees revealed that the Office of Sustainability is crafting an updated strategic climate action plan. The plan will include new data sets regarding what Dees called, "the 8,000-pound monster in the room." In other words, the reported emissions for the university from baseline year 2009 to 2018 will soon be publicly available on the App State Office of Sustainability's website.
Organizers seeking to achieve early carbon neutrality intend to use this new information to solicit feedback and rally support in favor of reducing the university's carbon footprint in its largest three sinks: energy production, transportation and space heating.
In the fall, the Curriculum Team organized new sustainability advocacy courses for the semester. Several movement-aligned sustainable development courses are in session, including Climate Action at ASU, Transforming the Energy Sector and Practicum in Energy Advocacy.
While presenting for the Curriculum Team, sustainable development faculty Ignatov and Susan Reed discussed integrating climate and resiliency discussions within the general education tract.
"It's not a formulaic issue we're dealing with. We need to change people's hearts and attitudes too," Reed said.
While the Curriculum Team focused on creating the foundation for an interdisciplinary movement, the Connections Team focused on intersectionality.
"Climate disruption consequences are disproportionately suffered by low-income communities, communities of color and other traditionally marginalized groups," the collaborative's website said.
The Connections Team wants to combat this injustice by creating a database aggregating all organizations, resources, recurring events, key people and community groups in Watauga County.
"We created goals with the understanding that this affects all of us. That in order to transform we need to include everyone, and that the systems that oppress people are the same ones that are causing climate change," sophomore biology major Rachel Milkereit said while presenting for the Connections Team.
"We're looking for a dialogue rather than polarization," Campus garden coordinator Sydney Blume said. "For this movement to be successful and for this movement to continue, we need to have something beyond what we're against."
Organizers encourage students and faculty to find their place in the collaborative. Student and faculty pledges have been published online to encourage involvement across disciplines.
On Jan. 26, the day of the U.S. Extinction Rebellion, the collaborative will host its public kickoff.