FADE shows off Appalachian dance community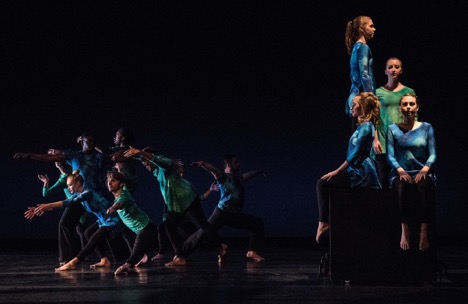 The Fall Appalachian Dance Ensemble will perform in the Valborg Theatre Wednesday through Sunday. FADE is an annual dance concert that shows off the Appalachian Dance community. Over 50 people, including dancers, faculty, crew and technicians come together to create a memorable performance for their audience.
There are eight pieces total, choreographed by four students, three faculty choreographers and one guest artist. The pieces range from pure fun and entertainment to serious and thought-provoking. Audience members can expect to ride a little emotional rollercoaster, said faculty choreographer Laurie Atkins.
Atkins choreographed an abstract piece called "Story Bodies," which explores the way current events in our world overwhelm and echo through communities. She said the piece belongs both to her and her students, because after their initial discussion, they all worked together to create movement for the idea.
Atkins said she is very excited to see her students share themselves in performance on stage.
"It's a synthesis of their learning at the university so far and also a synthesis of who they are in this world," Atkins said.
Sherone Price, an associate professor of dance studies and a faculty choreographer, said he is very proud of everyone involved.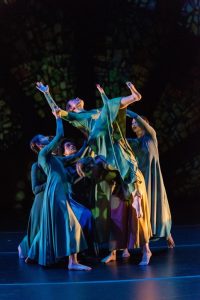 "Art is really something that's important to our society and so we want [audiences] to see that being an artist is actually a wonderful thing to own," Price said.
Another faculty choreographer is Kevin Warner, who is the chair for the department of theatre and dance. One of his favorite things about the department is that FADE is open to any student, even if they are not a dance major or minor, which makes the community much more inclusive. Warner actually restaged a piece he had done a few years ago for this year's FADE as a fun challenge for his students.
In addition to enjoying the concert, Warner hopes audiences will also feel "that the work that we are doing as a faculty here has merit and that we are giving our students the opportunity to grow not only as dancers but also as people."
An abstract piece called "Those Left Behind" is choreographed by senior dance and journalism major Alison Bird. Her piece was inspired by a painting she saw over the summer, which made her wonder what the painting would look like if it could move.
"This is the first time I've been inspired off of a painting so I think I'm excited to see how it's translated onstage, and just being able to choreograph for a mainstage is really great," Bird said.
Karla Katibah, a junior dance minor, is excited to dance in Warner's playful piece.
"I feel like all of the dancers have worked so hard, and I am excited that we can show the hard work that we've done this semester," Katibah said. Dancers have spent at least three to four hours a week in rehearsal for FADE since September.
Katibah said it is wonderful to be a part of the Appalachian dance community. "We're all really supportive of each other and we all understand what we're going through, and it's a really cool community to be in because we all kind of have the same mindset."
FADE performances will start at 7 p.m. Wednesday through Saturday, and at 2 p.m. on Sunday. Tickets are $10 for students and $17 for adults. Tickets can be purchased online or in person at the Valborg Theatre box office.
Story By: Natalie Broome, Intern A&E Reporter
Photos courtesy of Lynn Willis and the ASU Department of Theatre & Dance