Appalachian State University's biology greenhouse held its annual fall plant sale Aug. 21-23 for students and the Boone community.
Greenhouse manager Jerry Meyer said proceeds from the sale, which were a little more than $2,000, are used to help fix and buy equipment. This year's funding will allow the greenhouse to purchase more exotic and unusual specimens.
The greenhouse is home to hundreds of healthy tropical plants, many of uncommon    varieties, grown by Appalachian students and community volunteers, according to biology.appstate.edu.
The sale featured a variety of the plants, with some of the smaller ones priced as low as $1, said Doris Ratchford, a greenhouse volunteer and Boone resident.
"A lot of our customers who come in are already interested in plants," Ratchford said. "Some students have related majors, and others come in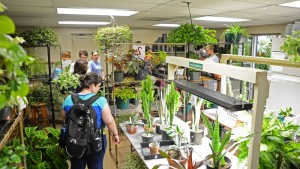 looking for a certain color or a plant that is low maintenance. The most popular selling plants are the succulents and the cacti, due to their unique appearance."
Each plant came with proper care instructions and directions about where to place the plants for optimal sunlight reception and growth.
"Last year's plant sale revenue was used to buy new items like a seed mini-fridge, a microscope, a map and a nature photography set," Meyer said. "The greenhouse receives enough funding to run efficiently, but it can take extra [money] to make this place as educational as it currently is."
Sydney Bunting, a senior cell and molecular biology major who wants to start a project at the greenhouse this month involving disease-resistant hybrid cucumbers, came to the plant sale hoping to buy a Dwarf Banana Plant.
Bunting said she believes that more people should be interested in plants and the university's biology greenhouse.
"The majority of people involved with the plants here have been so kind," Bunting said. "They will answer any questions you have. Volunteering here or coming to the sale is a great way to gain knowledge, and [Meyer] can tell you everything you need to know about horticulture."
Meyer has worked at the greenhouse for six years since transferring to Appalachian from the University of Idaho. Meyer said Appalachian's program is small but allows for great freedom in plant choices and easy interaction between the volunteers.
The primary goal of the greenhouse is to provide the teachers with what they need for their classes. The greenhouse's temperature-controlled environment allows for over 800 plant species from all around the world, according to the Appalachian biology  department's webpage.
"I wish more people came here for visitation," Meyer said. "I do my best to make the place as well-known as possible through the plant sale. I also teach an outreach program called High Country Gardening here on Saturdays."
A date has not been set for the next plant sale, Meyer said.The greenhouse is located next to the State Farm parking lot at 211 Dale Street.
Volunteer positions are available on weekdays and conservatory tours can be arranged by contacting Meyer at meyerja@appstate.edu.
Story: Kelsey Hamm, A&E Reporter
Photo: Olivia Wilkes, Photographer