Throughout Saturday morning, people arrive with baskets in tow to buy fresh fruit, vegetables and flowers from vendors at the Watauga County Farmers' Market.
Every Saturday from 8 a.m. to noon at Horn in the West, approximately 65 vendors set up stands to sell their products—everything from art and handmade jewelry to fresh baked bread and coffee to painted rocks at the Kid's Corner stand.
As people strolled through the market this past Saturday, Marshall Davis, a regular musician at the farmers' market, provided vibrant but relaxing background music on his handpan instrument. Other musicians also play at the market often.
Started in 1974, the farmer's market is a place where people feel safe purchasing high-quality food from neighbors and friends, said Tori Cox, Watauga County Farmers' Market manager.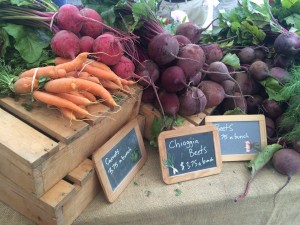 According to a study done in 2009, about 15 percent of customers are students. Some students end up going from customers to volunteers and interns for the local farms and businesses, Cox said.
"Students in college are experiencing an intense period of education and personal growth," Cox said. "The farmers' market is a wonderful place to add to a well-rounded education by learning about local food as well as the town, community and culture that surround ASU."
Senior sustainable development major and employee of Tumbling Shoals Farm, Sonia Smith, said the farmers' market is a good place for students to come and buy fresh food, since that is not always readily available to students on campus.
Vendors like Shady Grove Gardens and Nursery, Goldenrod Gardens, and Sunshine Cove Farm offer products like lavender bouquets, sunflowers, kale, carrots and more.
Will Thomas, son of the founders of Creeksong Farm, said the farmers' market is good for students because "it's not just a place for students specifically."
"You can come and talk with other people in the community," Thomas said.
The farmers' market, which is funded by the vendor's' fee, is a place that students can come and interact with other community members, and have something positive to point to when family and friends come, John Baker of Sunshine Design said.
Baker also said local agriculture is something to be appreciated and that he supports the trend of local agriculture in mainstream technology that seems to be bringing more people to the farmers' market.
Story: Charlotte Wray, Intern Reporter