The owners of Veggies, Fruit and More, have reopened their business, now at 362 W. King St., after being forced out of their previous location  earlier this year due to an impending chain restaurant addition to Boone.
Allen Curtis and his wife Susan, whose business was formerly located on the extension of 105 next to Papa John's, said the local produce shop chose their new spot in order to stay accessible to students – their target market. The store opened Nov. 17.
"If I were not near the ASU students, I would not want go back in business," Allen  Curtis said. "I would've quit. The ASU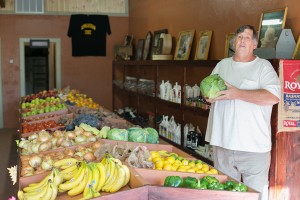 are my heart. Therefore, if students couldn't get to me, I wouldn't have done it."
The couple had been leasing land from an owner who is now leasing it for the addition of a Zaxby's.
"They tore our building down there to build y'all a new Zaxby's restaurant, so we had to move," Allen Curtis said. "The owners of that building were very good to us. We only had 18 months guaranteed there, but we stayed three years. So how could I fight when I stayed twice as long as what we were told we could stay?"
Allen Curtis said a main factor in choosing the new location was finding a place that would prevent he and Susan from having to inflate prices.
"We spent all summer on the side of the road, looking for a building," he said. "Renting is expensive. We had to find somewhere where we thought we would be able to keep prices down and be profitable and be able to continue to grow and to be able to be an asset to the students."
Susan marvels at the relationship her husband has built with students over the years, several even bringing their parents to meet Allen on graduation day.
"It's a great relationship, however, we still want to draw the local market as well," she said. "The honest truth is, if we benefit the students and we can stay here for them, we're going to have to have support in order to do that."
Allen Curtis said he has received personal phone calls on his birthday and on Christmas from students he has built close relationships with, but business for the Curtis's has just been "OK."
"[Business] needs to be a lot better because we're paying double the rent we paid somewhere else," Allen said. "So it's going to have to be a lot better than it is now."
The store carries a wide variety of products, including produce and dry goods from local sources. The fresh produce varies, but includes tomatoes, strawberries, spinach, kale, free-range eggs, peaches, watermelon, cantaloupe and apples, depending on the season.
Veggies, Fruit and More also typically carries various meats, but cannot offer those products to customers until renovating the building has been concluded.
"We do a lot of Amish products, [a] lot of beef, hamburgers, chicken, pork, ribeye steaks, sausage with no chemicals and preservatives in it," Allen Curtis said. "Until our walk-in coolers are up and running, we cannot carry many of those products."
The installation is dependent upon factors not in the hands of the owners.
"That's up to the people that are doing the work and up to the town of Boone to get everything passed and approved," Allen Curtis said. "It's a process and will probably not be operational until y'all come back after Christmas."
Veggies, Fruit and More will be open seven days a week and the couple hopes to have it fully operational as soon as possible, meaning the second floor of the building will also be set up.
"Hopefully we'll get the support we're looking for," Susan Curtis said. "This was attractive because of the proximity to the students."
Story: Nicole Caporaso, Senior News Reporter
Photo by Sarah Weiffenbach, Intern Photographer