Ryan Duquette, Fashion in her own words
It is hard to miss Ryan Duquette when she walks into a room, standing around six feet tall with striking fashion.
Duquette, sophomore apparel design and merchandising student, uses fashion to express her true self.
"Being transgender, it's been a struggle to accept myself and want to show the world who I am, but through fashion I am able to do that," Duquette said.
Duquette said that fashion helped her get through dark times in her life, like when she was bullied in middle school.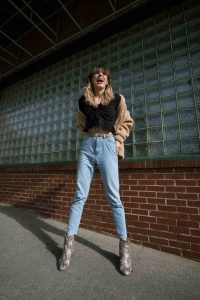 "Ever since then I've just been evolving and growing as person and an individual that just loves fashion," Duquette said.
Duquette describes her style as a hybrid of different influences.
"Super skater girl meets French b—-, meets classic Bella Hadid knock-off," Duquette said. "I definitely get most my inspiration from social media."
Two of her biggest social media influences are Bella Hadid and Amanda Steele. Steele represents the "goth" style and Hadid represents the "tomboy" style she aims for.
"I really just wake up and decide if I want to look like a bootleg Bella or a bootleg Amanda," Duquette said.
One of her favorite outfit staples is her IAMGIA jacket, a piece she marveled over when she saw social media fashion influencers wearing it.
"My mom was like, 'Wwe'll finally get it for you for one year being on hormones,' so it's like a birthday present," Duquette said.
Duquette's fashion awakens the person she never thought she could be. Duquette said her fashion makes her feel, "Confident, it's just that simple."
Story by Mericlaire Williams, A&E Reporter
Photos by Hayley Canal, Staff Reporter
Featured Photo Caption: Sophomore apparel design and merchandising major Ryan Duquette takes poses in her favorite IAMGIA jacket.