Father John Misty reaches new heights with sophomore album
The newest album from singer-songwriter and multi-instrumentalist Josh Tillman, better known by his stage name Father John Misty, delivers a sophomore approach fueled by romanticism, satire, cynicism and creativity.
While Tillman's first album "Fear Fun" explored a more drug-riddled California wanderer sound resembling that of Gram Parsons and The Eagles, his sophomore release, "I Love You, Honeybear," takes a different direction. On this album, Tillman explores themes of falling in love, cynical emotions regarding past relationships, and angriness toward current world views and ideals. All of which are mixed in with a wide range of musical directions including orchestral arrangements, soft acoustic guitar work, piano ballads, and fuzzed out electric guitar rock. With an appearance that resembles Jim Morrison and a voice that resembles a young Harry Nilsson, Tillman's dry–and at times pretentious–persona sets a new tone for the singer-songwriter.
The self-titled first track explores Tillman's love for a person, presumed to be his new wife. "But don't ever doubt this/my steadfast conviction/My love, you're the one I want to watch the ship go down with," he belts out with a sappy, yet honest tone. The song features beautiful piano chords along with soaring string instrumentation. The romantic lyrics continue with the next track, "Chateau Lobby #4 (in C for Two Virgins)," although this time with a much more bone-dry humor. Tillman's sings of making love for the first time with a new woman, but the lyrics are more stinging, sharp and cynical.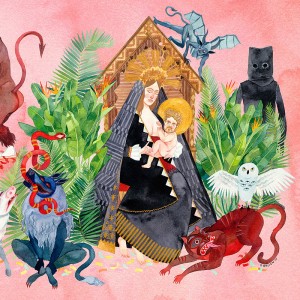 The third track, "True Affection," is a completely different change of pace from the rest of the album. It features Animal Collective inspired electronic synths and drum loops that help Tillman's soaring background falsettos and romantic lyrics become even better. While the synths and drum loops are only featured on this track, it proves that Tillman is capable of exploring different genres and making them work.
Tillman's clever satirical lyrical style disguised as a love song is at full force in the next track "The Night Josh Tillman Came To Our Apt.,"a scathing song filled with direct insults made at a manic pixie dream girl. Tillman then switches to outing himself of his own bad qualities on the track ""Nothing Good Ever Happens at the Goddamn Thirsty Crow," with lyrics such as "And now my genius can drink in silence/She's got to listen to your tired-ass lies/I know it's hard to believe a good-hearted woman/To have a body that make your daddy cry.
Tillman drops the romanticism and brings out his inner Jim Morrison in the track "Ideal Husband," where he oozes regret, sex, and drug infused paranoia over a heart racing fuzzed out guitar. It's messy, thrilling, and most of all, an honest confession of real emotion.
On what is perhaps the epic centerpiece of the album, the tracks "Bored In The USA," mocks American culture and its institutions, including love, capitalism, and religion. Tillman sings brutal (but true) satire filled lyrics that perfectly uncover America's faults in a first person narrative over beautiful grand piano chords and soaring strings. "Oh, they gave me a useless education/And a subprime loan on a craftsman home/Keep my prescriptions filled and now I can't get off/But I can kind of deal, oh, with being bored in the USA". Tillman goes as far as including a laugh track that possibly reflects on society's own brainwashed attitudes towards Americas values.
The track "Holy Shit" continues with the direct mocking of American ideals. "Oh, and love is just an institution based on human frailty/What's your paradise gotta do with Adam and Eve?" he belts out with a hint of both rage and confusion.
The album concludes with the track "I Went To The Store One Day." Tillman tells a beautiful story of how he met his wife while his smooth and beautiful voice transcends over an acoustic guitar and soft orchestral instruments.
"I Love You, Honeybear," is an honest, beautiful, and exciting album that portrays Tillman at his very best both musically, and lyrically. It's definitely a front runner for best album of 2015.Father John Misty is currently on tour and is scheduled to play at the Orange Peel in Asheville on March 27.
Rating: 5/5 stars
REVIEW: Jordan Williams, Intern A&E Reporter