No-fear Shakespeare: 'Love's Labor's Lost'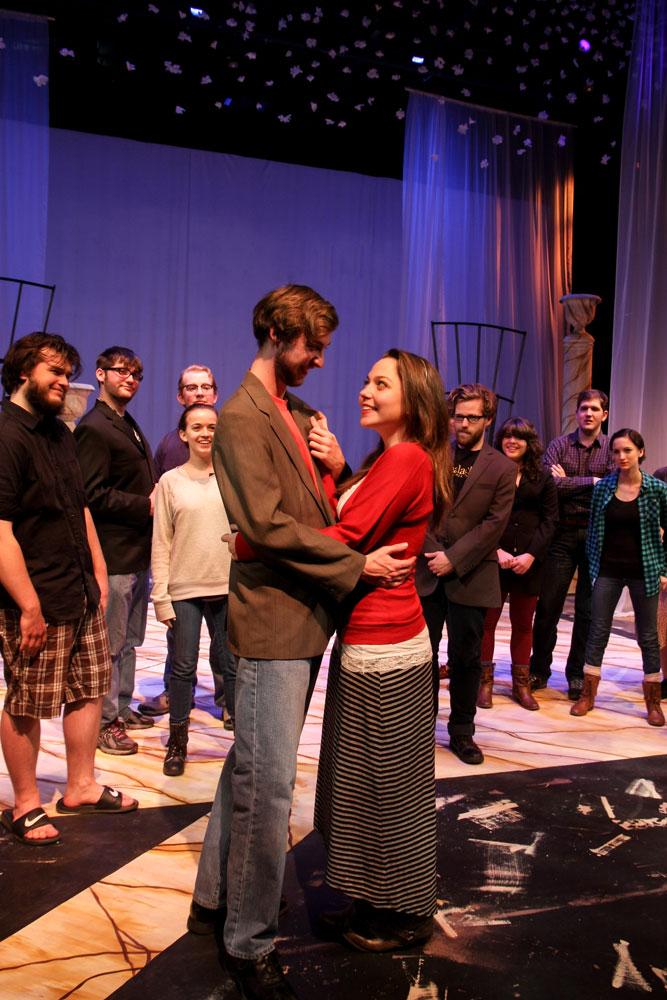 Appalachian State University students will perform a new adaptation of Shakespeare's early comedy "Love's Labor's Lost" this week as the start of the High Country Theatre League's celebration of Shakespeare's 450th birthday.
The play features an all-student cast as well as original student musical compositions.
The show follows a king who decides that he and his friends are going to bring fame to their kingdom. They take an oath to dedicate themselves to their studies for three years, and during that time they will only eat one meal a day, and most importantly not make any contact with women. Hilarity ensues when they all end up falling for the visiting princess of France and her friends, and find ways around the oath.
While the story is set in a fictional province of Spain and was originally written to be performed at a wedding, director Derek Gagnier said he took his own points of influence from the original text, setting the action of the play in a roaring-'20s style with characters in modern dress.
Gagnier, an associate professor in the Department of Theatre and Dance, has been studying all aspects of producing, performing and interpreting Shakespeare throughout his career. With some help from the American Shakespeare Center, he has been working on this specific adaptation for the past two years.
"What I hope it does is open people's eyes and show them that Shakespeare isn't this boring thing – it's exciting and it's fun and entertaining, especially these early comedies," Gagnier said.
The setting also allows for a more modern interpretation of the original jokes, and Gagnier hopes that this will make for a version of Shakespeare that is within reach of modern audiences.
"If people don't get what the words are, the body language will tell that part of the story for them," Gagnier said. "The pressure's off. Nobody dies on stage, but a lot of people laugh."
Senior theatre arts major Carmen Lawrence plays Maria, one of the princess' friends, and said the age of the characters is convenient.
"There are usually shows that are picked [by the university] that unavoidably have characters that are all either 50 years old or 10 years old, so to have almost our entire cast our age is pretty convenient," she said.
Lawrence also said she welcomes the chance to take on a less serious role.
Another key aspect unique to this production is the addition of original music written by junior music composition major Daniel Bukin.
Bukin said that while the original script included mention of some musical numbers, it does not make any mention of the actual tunes, and only some of the songs include lyrics. This gap in the original left more room for further artistic adaptation.
As a composer, Bukin strives for the ability to write in a variety of styles and for a variety of ensembles, and as a theater lover, he jumped at the opportunity to write music for the stage, he said.
"Once I learned that this particular production was to be set in a roaring-'20s style, but modern day setting, it was clear what genre of music was appropriate for the play: big band jazz," Bukin said.
Lawrence said the show offers audiences the culture of Shakespeare via the accessibility of what she called "the plot of every chick flick ever made."
Love's Labor's Lost takes place in the Valborg Theatre at 7:30 p.m. Wednesday through Saturday with a 2 p.m. matinee show Sunday.
Tickets are $8 for students, $13 for faculty and staff and $15 for adults.
Story by Lovey Cooper, Senior A&E Reporter