From offense to defense, Fernandez finds a way to fit in 
For Tyson Fernandez, it doesn't matter what side of the ball he is on.
Fernandez, a sophomore defensive lineman, has experienced significant change the last two seasons switching from offensive to defensive line.
Fernandez first made the switch to the defensive line last season versus Chattanooga and finished 2013 with 14 tackles, 11 of those solo.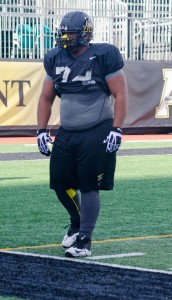 At 345 pounds, Fernandez is the heaviest player on the team.
Head coach Scott Satterfield said he switched Fernandez as an experiment based on the lineman's size.
"[The] first thing was we needed to try to get a little more size on that side of the ball and this guy is the biggest on the team," Satterfield said. "We had to try to plug those gaps on the defensive line."
Fernandez is no stranger to being on both sides of the ball, as he played on both the offensive and defensive lines for Fuquay-Varina High School.
Before Fernandez's switch near the end of last season, he said he had mentioned playing defensive line for App State.
"I joked around in the locker room saying, 'Man, I just want to play defense', but I never thought in my wildest dreams that I would go and switch," Fernandez said.
The transition was made easier largely because of the relationship Fernandez has with his best friend and roommate, sophomore defensive lineman Darian Small.
"[Darian] calmed me down when we were about to play Chattanooga," Fernandez said. "He texted me and said, 'It's just like riding a bike.'"
Small said Fernandez has adjusted very well to the switch.
"I think he is fitting in just fine," Small said. "The only big difference is you get to tackle people. The fundamentals are pretty much the same. I think he is doing pretty good."
Small said he and Fernandez are always competing on and off the field.
"I think we push each other a lot since we're like best friends and we live together," Small said. "We're always in each others' ears, always trying to compete with one another, so you really can't take a day off here at practice."
Satterfield said as smooth as Fernandez's transition has been, he still has room to grow as a player.
"He still has a lot of potential and can get a lot better as long as he stays fresh and healthy," Satterfield said. "I think he will have a huge impact this year."
Whatever side of the ball, Fernandez said he is looking forward to playing games at Kidd Brewer Stadium again this season.
"I love playing at home," Fernandez said. "It is a great atmosphere and it's a great feeling getting your name called out and seeing your parents sitting in the stands and just to know they're supporting you, and when I make them proud is when I'm the happiest."
After recovering from thumb injury, Blair remains motivated 
Ronald Blair is hungry for action on the field for App State.
Blair, a junior defensive end, played just two games for the Mountaineers last season before being sidelined with a thumb injury.
Blair injured his left thumb during App State's home opener last season against North Carolina A&T.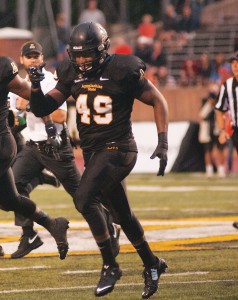 Blair said he thinks he sustained the injury when he sacked the opposing quarterback early in the game.
"I tried to celebrate [and] just like, shake it off, but it was hurting pretty badly," Blair said. "I happened to finish the game but it was hurting pretty bad."
Blair later found out that he had chipped a bone and torn several ligaments. Doctors tried to let the injury heal naturally, but the bone continued to stunt the healing of the ligaments, and surgery was performed in January.
"When you hurt your thumb, you never realize how much you use it," Blair said. "The first week of [fall] camp, it felt like I had my thumb. I could grab and I could do my moves like I wanted to."
Blair said that even beyond the recovery process, the worst part was having to watch from the sidelines last season.
"It was real frustrating not being able to be there for your brothers," Blair said. "You're on the sideline, but you want to be on the field and make plays. It's kind of different when you're on the sideline and you're just talking. People react more to actions than voice."
At the beginning of this season, Blair said he was excited to get back out on the field.
"My stomach was just growling to get to another game," Blair said. "Once you miss a whole year, that hunger doesn't go away after one game.
Sophomore linebacker John Law said the rest of the team was excited to have Blair back for a number of reasons.
"It means the world to us," Law said. "We echo off each other. I tell him stuff I see, and he tells me stuff he sees and we make it work that way, so it's great having him out there."
Head coach Scott Satterfield said Blair might be the most important part of the Mountaineers defensive line.
"He's such a powerful, explosive player," Satterfield said. "He causes havoc with the offensive line that he goes against, and in turn that helps everybody else up front. He's the most explosive defensive player that we have."
App State football is back in action Thursday at 7:30 p.m. against Georgia Southern as both squads open up Sun Belt Conference play. The game will be broadcast live on ESPNU.
Stories by  Brooks Maynard, Intern Sports Reporter; Jason Huber, Intern Sports Reporter; Kayla May, Intern Sports Reporter 
Photos: Morgan Cook, Photo Editor; Rachel Krauza, Staff Photographer