Fernandez's team-first approach molds attitude
Senior Appalachian State football player Tyson Fernandez has had a back-and-forth senior season, not for his play on the field, but for his rotation between playing on the offensive and defensive sides of the ball.
Coming to Appalachian as a freshman, Fernandez redshirted his first year then moved from offensive to defensive line late in his redshirt freshman season after injuries upfront.
Five days before the Nov. 2 game in 2013 against Chattanooga is when Fernandez moved over to the defensive line and got the start recording four solo tackles in his debut.
In his sophomore and junior seasons, Fernandez started 20 total games at nose tackle and was slated to begin his senior at the same spot, but lack of depth on the offensive line sparked change.
"This is a business and this is a job so I took it as that," Fernandez said.
This wasn't the first time Fernandez has played both offensively and defensively in his football career. He did so in high school at Fuquay-Varina, in Raleigh, under coach Ryan Habich, who is now the head coach at Watauga High School.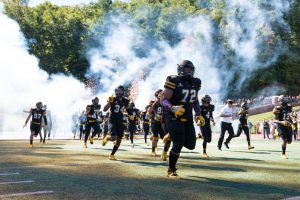 "His senior year he started at guard on offense and nose guard in our 3-4 defense," Habich said. "He played every down going both ways which is extremely tough in the hot months of August and September in Raleigh."
App State defensive line coach Mark Ivey also recognizes the importance and the challenge of Fernandez to play both ways and doing what is best for the team.
"Tyson is very important and we had a need at the offensive line position, without him going in there we would have been thin," Ivey said. "Obviously he has spent the last two and half years as either the starter or major contributor on the defensive line."
Ivey says the challenge of playing both ways in college is trying to comprehend the playbook of both the offense and defense and being sound on technique, and understands how difficult it is.
"It definitely presents a challenge during the time he was going back and forth because at the same time the offensive line was meeting, the defensive line was meeting," Ivey said.
Returning from an injury early this season, Fernandez practiced reps on both sides of the ball but made the full move back to his natural position on defense as nose tackle in the Mountaineers' game against Akron.
Back to nose tackle, Fernandez is comftorable again with his position but said he just wants to contribute to what is best for the team, by being on the field.
"I don't want to stop, I want to constantly be out there," Fernandez said. "I hate being on the sidelines so when they told me I had the opportunity to play both ways I jumped on it because that means less time on the sideline."
Fernandez's passion for football started late he didn't start playing football until his sophomore year of high school.
"Tyson was just a baseball player his freshman year. I convinced him to finally play football his sophomore year," Habich said.  "His JV baseball coach was one of my assistants and I joked that he would be fired from football if Tyson did not play football. I also joked with Tyson and told him he could not play baseball unless he played football."
It was Fernandez's baseball coach who ended up making him play football.
"I didn't have a choice, he made my baseball coach make me play football," Fernandez jokingly said. "Coach said I was too big to be playing just baseball, so he was like 'put him in football, and if he doesn't play football he's not allowed to play baseball.'"
Being such a good character and such a strong leader, the switch worked out just fine for Fernandez.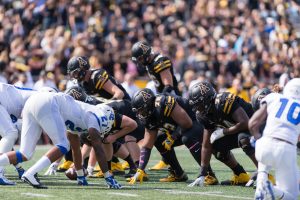 "Tyson was always a high character team player who came from a strong Christian family. Even though he just started playing football his sophomore year, he became a leader in our program." Habich said. "I am very proud of Tyson of what he has done in college as well."
A unique start to a sport that eventually would get Fernandez on a Division I football program makes the journey that much more different than other football players who may have played their whole lives.
"Whenever I'm in there I'm going to try and get the job done, I'm going to give everything I got," Fernandez said.
The senior plans on making an impact on the defensive line again like prior years but he is willing to do whatever it takes to contribute to his team.
"It was challenging, but luckily I was able to play three years of defense and I knew all of the defensive calls by heart and I could do them in my sleep," Fernandez said. "I definitely want to be out there to help the team win."
Story By: Adam Hothersall, Sports Reporter