Appalachian State University students and community members from throughout the state flocked to Plemmons Student Union on Saturday for the sixth annual Old-Time Fiddlers Convention.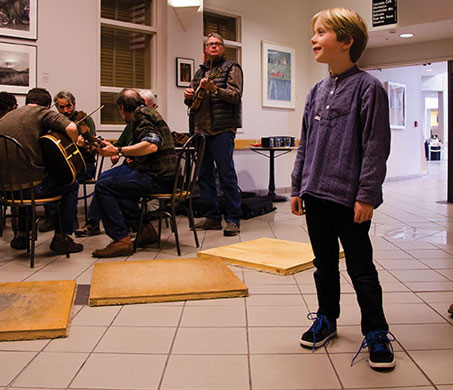 The convention gave students and community members the opportunity to sell their own crafts at the Handmade Market and play their music in informal settings. It also allowed them to listen to spontaneous musical performances in open spaces throughout the student union and sit in for free on various judged competitions held throughout the day.
Maggie Sherwood, a sophomore advertising and graphic design major, sold her crafts at the Handmade Market, along with other vendors from all over the south.
"It's the first time I've ever sold any of my work so it's pretty interesting to see people wanting to buy my art," Sherwood said.
Tyler Peterson, chair of the Appalachian Popular Programming Society's Heritage Council, said more than 250 students, youth, adults and artists of every kind came through the student union to take part in the Convention. Peterson said nearly $2,000 was raised to support the council and the convention's myriad of activities.
These included not only the competitions and market, but also the Luthier's Gathering, where professional instrument makers sold fiddles, mandolins, guitars and other instruments and shared information on the craft of instrument making.
"It is really amazing to see everyone coming together in the student union, a place we take for granted, to play music," Hannah Parker, junior management major, said. "This is one of Boone's best-kept secrets."
For Olivia Fields, a convention volunteer and sophomore sustainable development major, it was an opportunity to see the heritage of southern Appalachia right in her own front yard, she said.
"It gives you a sense of the roots of Appalachian State," Fields said. "This is the kind of stuff that's talked about all the time in class, but you don't get the opportunity to experience."
Sherwood agreed, pointing out the uniqueness of the convention in North Carolina.
"This is the only indoor fiddling festival in the winter," Sherwood said. "People want to come to Appalachian State. This reminds students about our heritage that we tend to take for granted in Boone, so it's a great learning experience."
by Casey Suglia, Intern A&E Reporter
Photo: Kim Ryenolds, Staff Photographer