Traveling bands, seasoned performers, talented children and Appalachian State University students competed and bonded as equals Saturday at the seventh annual Old-Time Fiddlers Convention, hosted by the Appalachian Heritage Council of the Appalachian Popular Programming Society.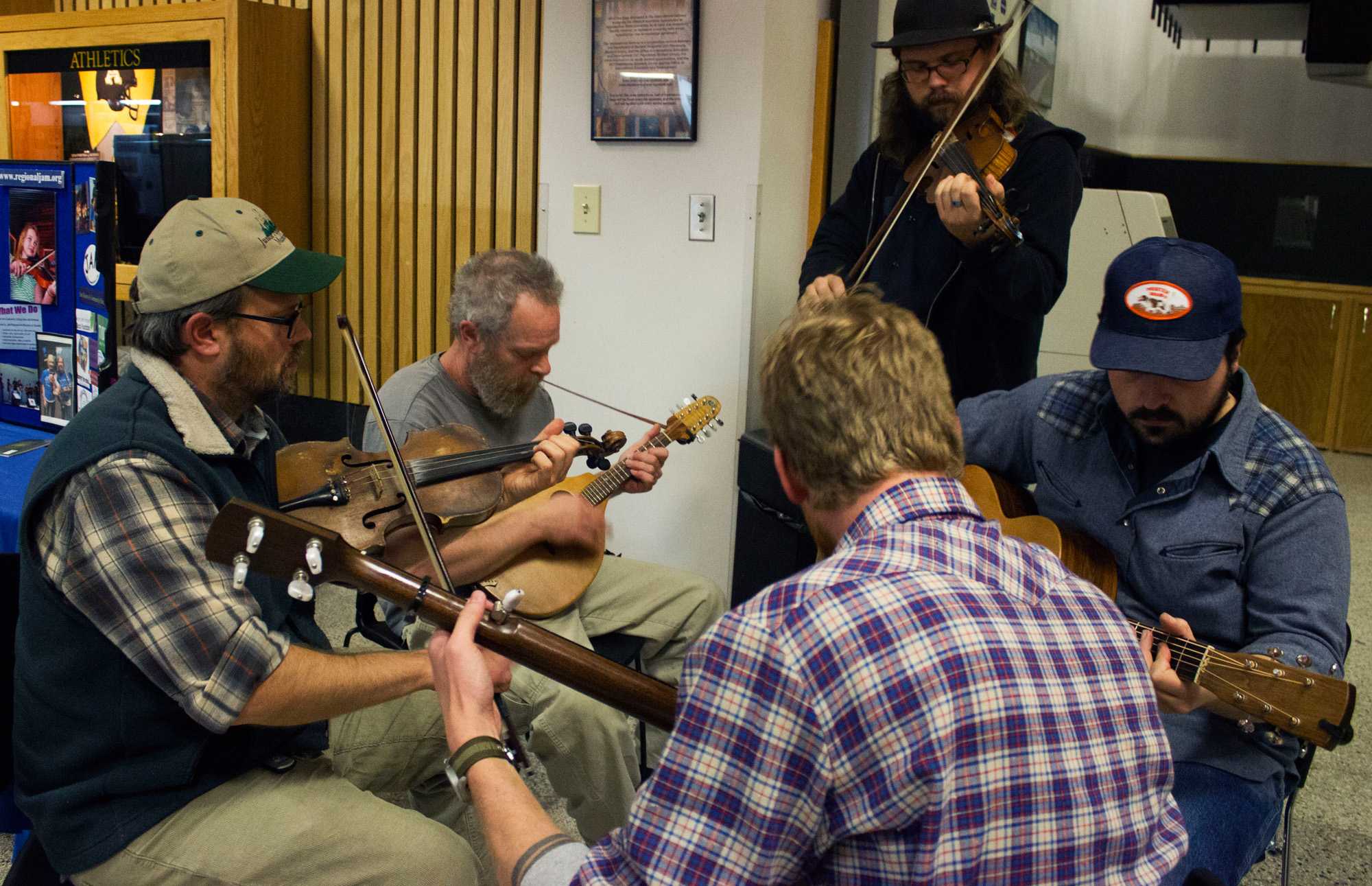 Organizers estimate between 200-300 people came through Plemmons Student Union between 10 a.m. and 5 p.m., and the show at Legends that night brought out a little over 100 people, Virginia Reed, Appalachian Heritage Council Chair said.
She said she feels good about the turnout, although numbers were lower than anticipated at events Thursday and Friday nights. "We had been preparing for so long and stayed on top of things as they came up during planning, which made the day of the convention enjoyable rather than stressful," Reed said. "This year I was lucky enough to have a group of extremely hardworking and dedicated people who were instrumental in making this convention one of the best and most well planned we've ever had.
While most of these people come from regional music networks, growing numbers of participants, organizers and viewers are now coming from another culture completely – Appalachian State University graduates themselves.
Banjo player Rebecca Jones returned for her seventh year in a row as emcee on the main stage, after first getting involved with the council during her sophomore year as a student at Appalachian. A broadcast major, Jones moved to Boone for the music after growing up two hours away. She stayed for her master's degree once the convention started her senior year.
"I had met a lot of people through the community who helped me to learn and grow, and that really helped me find a sense of home," Jones said. "That's what the Heritage Council was for me."
Her personal participation in community music jams on and off campus had given her the beginnings of connections to then bring to the convention when it began, as a way to connect the students with the community more directly. After hosting a bluegrass and old-time music radio show on campus for five years, she volunteered herself as a public stage manager and announcer and has returned to the role every year since.
"It was one of the greatest times of my college career to be a part of that-– everyone working together for this greater cause," Jones said.
This year, her work began with checking in at 9:30 a.m. to see what organizers had to say and announcing participants and winners in the solarium from 11 a.m. until 5 p.m., all while trying to meet with long-lost friends and community members and preparing for her own show in Legends at 8 p.m., playing banjo with The Buck Stops Here.
The band first met through mutual friends and got together in September of 2013 as the members from Virginia, South Carolina and North Carolina all came together at various other fiddlers conventions. The group features three fiddlers as well as a banjo and guitar. Every member can sing lead as well as play three or four instruments.
They see this as their first gig of the year before planning to record an album later this month, as a way of coming home after playing a few earlier shows together in Sugar Grove and at the Jones House.
Emily Schaad of the band Old Buck also joined Jones on stage Saturday. She too met her band members through the convention circuit, after first being involved in the beginning of Appalachian's, when a member of the Boone town council who worked for the Jones house brought the idea back to the APPS Heritage Council in hopes of its return.
Saturday, Schaad led fiddling workshops and caught up with friends before returning to Legends to headline the show – her first official gig since graduating in 2009.
After growing up as a classical musician, she always knew she wanted to get involved in this type of music, but just wasn't sure what it was until she was 20 and attended a week-long music camp about southern music and decided to pursue the genre by making friends at fiddlers conventions. She eventually found her way to Appalachian's Appalachian Studies master's program.
"It sounded like history to me," she said.
Now she teaches workshops, like the one she led Saturday, for a living.
As her first visit back since 2009, she calls this event "bigger, better and more awesome."
Reed says she plans to return to the competition in the future. To her, carrying on tradition is not a one-person job.
"One of the biggest things that Appalachian culture emphasizes is togetherness," Reed said. "I'm very fortunate to not only be part of this inclusive community, but also to have the chance to welcome others to it."
"The forces that brought me to the music while I was here are still here, and I feel like I come here to get more influence," Schaad said. "It's just amazing to be back and see all these dear friends who play music and hear the sounds again. There's so much good music here, even just walking through the halls of the student union and just hearing the thrum of the string bands practicing for the contests."
Jones too was somewhat surprised that the students here have carried on the traditions they set in place.
"I'm really excited to see a new crop of students carrying it on and through that process learning about the local music community and heritage here. It's a big part of this place and I think students put blinders on when they're in college and they focus a lot on their schoolwork, so they forget to look around at their surroundings, at the place where they're going to be living for four years. This event kind of helps bring the community to them and hopefully makes them more aware of this place that they're living and studying in, and hopefully makes them feel more a part of the High Country," Jones said.
She particularly enjoys revisiting the local children who have grown up through the Junior Appalachian Musicians convention, as the Appalachian convention gives them a space to show their skills as they grow and progress.
"It's not just that people are trying to preserve it, but that it's being celebrated in an active way," Schaad said. "People are enjoying it; I think that's what it is. It makes it so it's not like it's in a museum, but in a living way."
Story: Lovey Cooper, Senior A&E Reporter
Photo: Maggie Davis, Photographer