Fifteenth MLK Challenge sees record turnout
Twenty groups of volunteers left Legends at approximately 10 a.m. Monday to start their eight-hour day of giving back to the community in the 15th annual Martin Luther King Jr. Day Challenge.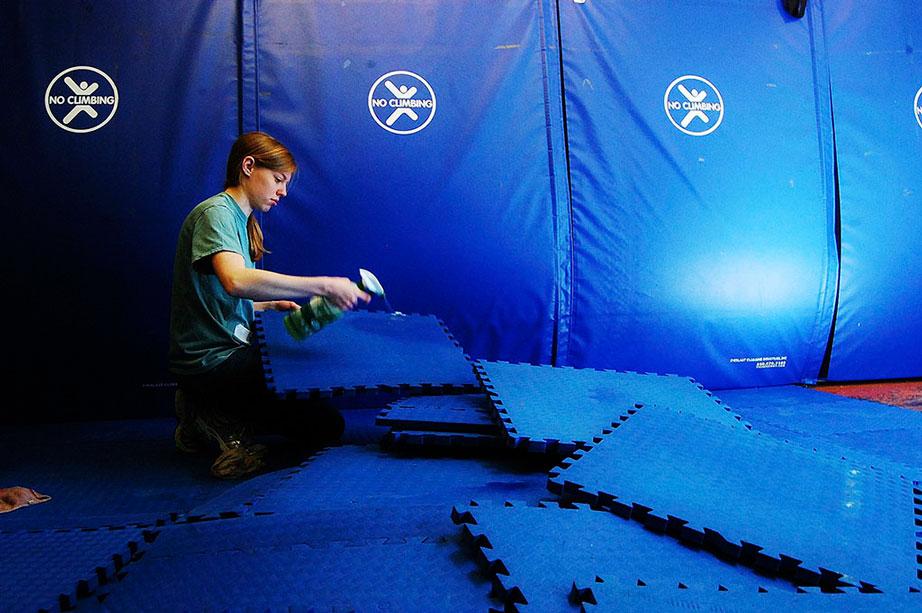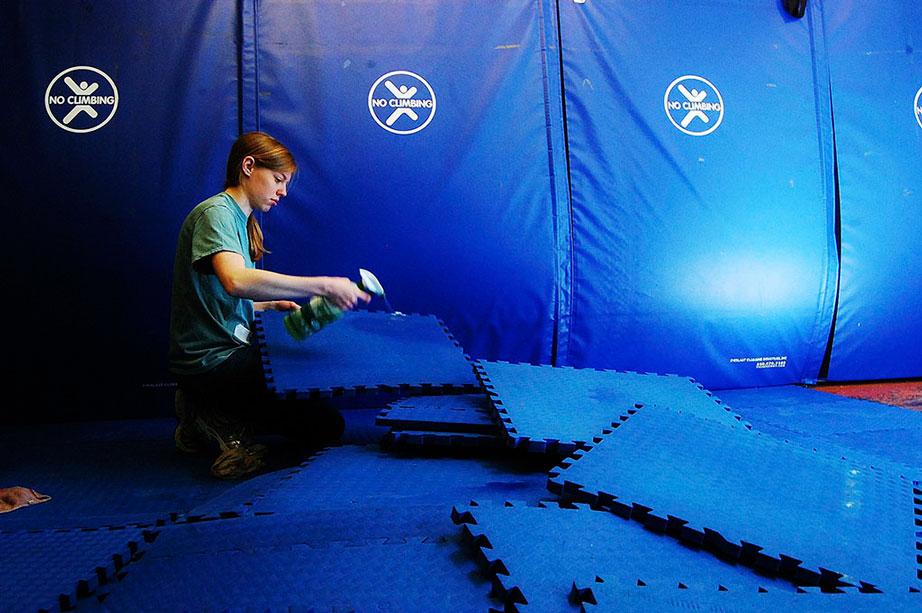 Participants in the challenge, organized by Appalachian and the Community Together, included 245 students, faculty and staff, as well as groups from AmeriCorps and Wingate University making this the biggest MLK Challenge to date as far as turnout, MLK Challenge Chair Rebecca Burwell said.
"We served over 20 different community partners throughout the day," Burwell said "I think it was a great opportunity to share the MLK spirit."
It was the first time AmeriCorps and Wingate University participated in the challenge with Appalachian State University.
The 20 groups of volunteers signed up for the task as a way to commemorate the message of Martin Luther King Jr. The goal was to spread his message as they worked throughout the community.
The groups were sent to randomly assigned sites where they worked on projects and raised money for the bonus challenge, collecting funds for Our Mother's Garden, a transformation of current vacant land off Poplar Grove Connector near the Watauga County Health Department into a community space.
A total of $663.56 was raised in cash by the groups.
The Appalachian visited worksites throughout the day to report on participant's activities.
The Children's Playhouse
One group of participants volunteered at The Children's Playhouse, a non-profit children's museum off King Street.
The Children's Playhouse welcomes parents and their children and provides them with different activities and resources, including art supplies, toy dolls and a play veterinarian's lab.
The volunteers built a bench and wall easel for the playhouse, as well as cleaned rooms and reorganized storage units.
Appalachian students have volunteered at The Children's Playhouse during the MLK challenge for at least a decade, said Kelly Parham, one of the original founders and executive director of The Children's Playhouse.
Freshman marketing major Jacqueline Hundley was assigned to the group working at the playhouse.
"I've always liked doing service and I never really thought about doing anything for MLK day," Hundley said.
Appalachian Brian Estates
A group of MLK Challenge participants spent their day at Appalachian Brian Estates and helped plan and host a birthday party for seniors currently residing at the independent living community for retirees in Boone.
The community throws a birthday party each month for all the residents who have birthdays within that month.
The volunteers were able to plan the birthday party for January, celebrating with residents turning 74 to 103 years old.
The volunteers were given a $60 budget to buy party supplies, decorations and food. Many local businesses offered them tax breaks, discounts or donations.
"[Martin Luther King Jr.] was about giving back to the community and that's what we're hoping to accomplish through this challenge," sophomore political science major Jordann Smart said.
The birthday celebration included a student-made Jeopardy board, karaoke, music and three birthday cakes.
Adrienne Sader, a graduate college student development major, is an ACT leader who helped plan the birthday party.
"I think getting to see how happy the residents are and seeing the looks on the residents' faces was rewarding for all of us," she said.
The residents listened to an excerpt from King's famous "I Have A Dream Speech" to commemorate the day, along with the birthday celebration.
Colleen Lurie, one of Appalachian Brian Estate's current residents, shared her memory of attending the speech in person in 1963.
"It was amazing to see that many people coming together, all gathered together in one place," Lurie said.
Community Care Clinic
Students were also challenged to volunteer at the Community Care Clinic, a volunteer-run organization that provides healthcare for people in Boone who cannot afford health insurance.
Students assigned to the clinic spent their day giving the facility a thorough cleaning.
Will Hathaway volunteers at the clinic regularly and said the help from the challenge participants was extremely valuable.
"It helps us feel good about the clinic and it provides a clean environment for the patients that I believe helps bolster their spirits," Hathaway said.
Hathaway believes what the students were bringing honor  Martin Luther King Jr.'s legacy by upholding his goals, he said.
"His goal was sharing within the community and contributing across lines," Hathaway said. "This is contributing across all different lines: race, education, monetary. It's a contribution that goes deep within the community."
Grace Lutheran Ministry Builders
One group of students was sent to the Hunger and Health Coalition worksite to work with Grace Lutheran Ministry Builders to prepare firewood to be given out based on need.
Grace Builders was started by the Grace Lutheran Ministry whose volunteers work at the Hunger and Health Coalition year round to prepare firewood for people who cannot heat their homes.
Firewood is gathered and donated from different sources in the community, said Harold Schopel, founder and leader of  Grace Builders.
"I think students enjoy seeing the results of their effort," Schopel said.
Some of the students participating in the challenge operated 27 ton woodcutters, while others retrieved firewood or chopped it with an axe.
"Being out in the cold all day with our warm coats and still shivering made me think about how cold it must be for people who don't have proper heating in the winter," freshman psychology major Madeline Keller said.
Hospitality House
Other students spent their day working at the new and old locations of  Boone's Hospitality House.
Hospitality House is  an organization that provides temporary housing and food to people struggling with crisis, poverty and homelessness with a goal of helping them to rebuild their lives, according to their mission statement.
The original site of Hospitality House, located on West King Street, is being cleaned and repaired in preparation for sale, which is what the volunteers helped with.
The students in this group spent their morning off moving furniture, cleaning rooms and patching up the roof.
At noon, the group moved to Hospitality House's newer location on Brook Hollow Road where they cooked lunch and ate with residents.
After lunch, the group solicited donations from local businesses to help fund the ongoing transition to the new location.
ACT members Anne Mason and Jeremy Dale helped lead the Hospitality House project.
"I think it's important for students to utilize a day off by putting service forward and give their time to people in their own community" Mason said.
Mason and Dale both said the day was a unique way of honoring King's legacy.
"Additionally, they get to meet new people by being put randomly into groups and earn a good night's sleep at the end of the day," Dale said. "They get to see what the collective group of students can achieve for themselves."
Two Rivers Community School
For the first time, a group of MLK Challenge volunteers visited the Two Rivers Community School, a public charter Kindergarten through eighth grade school with 187 students.
"This year we had a couple of big projects that we needed volunteer help with," said Jessica Gilway, the director of Two Rivers Community School.
The challenge participants added layers of gravel to the school's track and driveway and dug out the school's drainage to improve the playground.
The school partners with Appalachian State University and gets volunteers and student teachers each semester from the music, dance, theater and education departments.
"We work with a number of educators in all of those different departments, each semester we have about 20 interns," Gilway said.
F.A.R.M. Cafe
Feed All Regardless of Means Cafe hosted a group of volunteers who were tasked with cleaning the restaurant.
"The students [did] some of the deep cleaning that we simply can't get to every day," said Board of Directors member Tommy Brown. "The students are helping us do detail work that we couldn't get to otherwise with our normal operations."
The Cafe on King Street operates off of donations for meals, but requires no standard payment for meals.
Story: Staff Reports
Photo by Dana Clarke, Intern Photographer