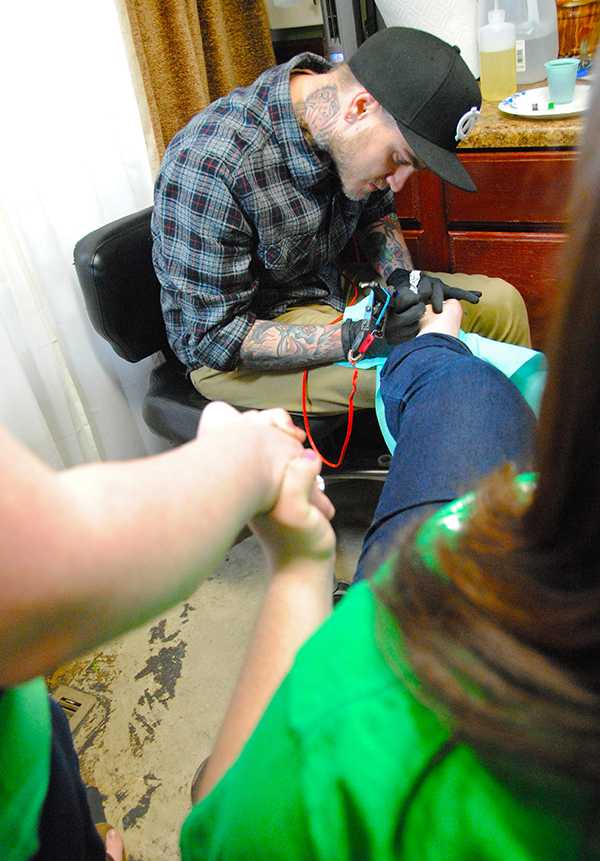 Speakeasy Tattoo will host its fifth annual Tattoos for Schools event this St. Patrick's Day.
All of the money from Tattoos for Schools directly benefits the art programs of local elementary schools.
In the past, patrons have donated a minimum of $10 in exchange for a small three- or four-leaf clover tattoo, but this year organizers are starting a pledge system in which patrons can donate a certain amount of money per tattoo done.
"It's great for anyone who wants to support the cause who can't make it that day or doesn't want to get the tattoo," said Nicole Kinnamon, the general manager of Speakeasy Tattoo.
Each tattoo take about 10 minutes each to complete, and a variety of clover tattoos are offered for patrons to choose from, along with a new design this year featuring an apple.
To avoid restless lines and allow patrons to celebrate all day on King Street, organizers will text groups of five to 10 when it is their turn to be tattooed.
Speakeasy hopes to reach out to the community more this year with the lineup of events, which includes face painting and temporary tattoos as a way to have a direct effect on the families the money goes toward.
"A lot of [parents of children in Boone] work in the community – they work at ASU or different businesses around town," Kinnamon said. "We want to rope in more locals this year."
Other events include a raffle of almost $1,000 worth of inventory from local smoke and piercing shop Expressions, located off of Howard Street.
"It's funny that the tattoo shop and Expressions are the two businesses in town that are really big supporters [of local schools]," Kinnamon said. "Nobody expects that."
Along with an appearance from the Appalachian Rollergirls, Irish games and various other shows taking place on King Street, an act recently shown on "America's Got Talent" called "Captain & Maybelle" will be performed throughout the day.
Captain Stab-Tuggo of "Captain & Maybelle" recently broke Ripley's Believe It or Not World Record for Heaviest Weighted Sword Swallow at 84.2 pounds.
St. Patrick's Day falls on Sunday, March 17, when most students will be returning from spring break, but this does not worry organizers.
"At first we were kind of hesitant, but we know that most people plan to be back in school on Monday, so if they're not celebrating St. Patrick's Day wherever they are, we know they'll spend it here," Kinnamon said.
Following the day's events is a 21 and up after-party hosted by Boone Saloon, featuring more performances by Stab-Tuggo.
Story: LOVEY COOPER, Senior A&E Reporter
Photo: OLIVIA WILKES, Senior Photographer