Editor's Note: The following is the first of a two-part series featuring the Latter-day Saints Student Association on campus.
A group of students meet every Monday in a building behind campus off Poplar Grove Road with a group of High Country residents of comparable ages.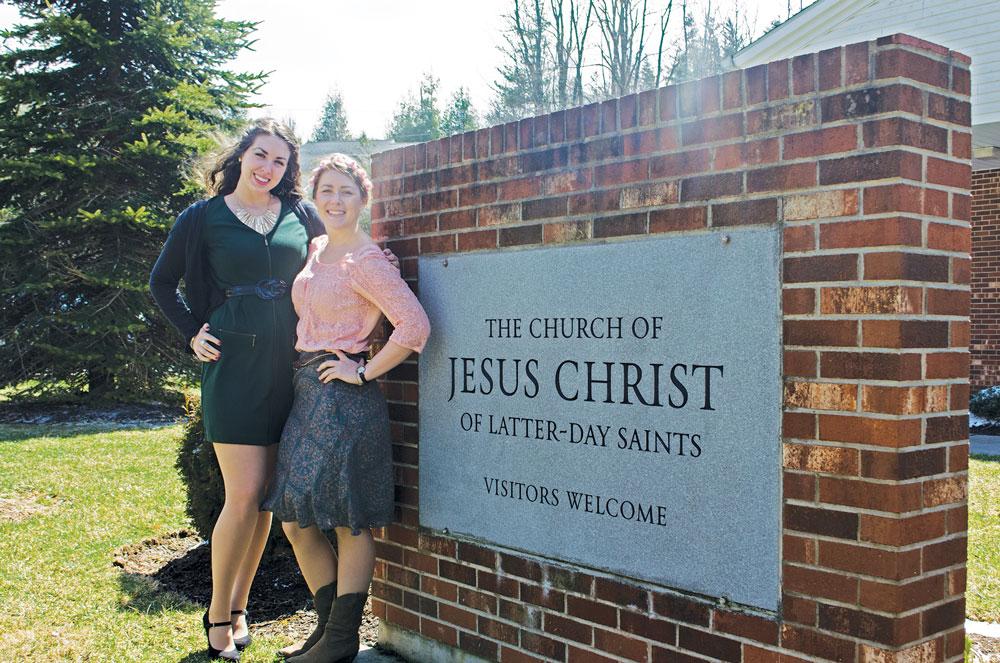 This handful of young adults consider one another brothers and sisters, making up a family of shared values and beliefs at Appalachian State University.
These students are Mormons, and they are members of the Latter-day Saints Student Association on campus.
These Monday night meetings, known in the Mormon faith as Family Home evenings, a day set aside for families to come together and spend time with one another, serve as a meeting time and place for the LDSSA, which gained recognition as an official campus club in fall 2013. Different chapters of this club exist on several other campuses nationwide.
Alisha LaDue, president and junior anthropology major, and Kaitlyn McIver, vice president and junior nutrition major, helped re-establish the Appalachian LDSSA chapter last semester after years of inactivity with the help of Trent Spaulding, adviser and assistant professor in the Department of Nutrition and Health Care Management.
"I don't know exactly what people say about us, but what we want to reflect to other people is that we are a new club," LaDue said. "We want our reflection to be as an uplifting club that helps serve the people around them, to live by moral standards and live a clean lifestyle."
'What's a Mormon?'
Mormons, more formally known as Latter-day Saints, believe in the gospel of Jesus Christ and the teachings of Joseph Smith, who they believe re-established the Church of Jesus Christ in the early 1800s, according to mormon.org.
Worldwide, there are at least 14 million members, according to mormon.org. In the United States alone, 1.7 percent of the adult population claim to be Mormon, according to the U.S. Religious Landscape Survey.
As members of LDSSA and the Mormon church, the students on campus believe in the Book of Mormon, Holy Bible and fundamental teachings of the church, which include, to name a few, Christian values, service work to others and abstaining from tobacco, alcohol, illegal drugs and coffee and tea, according to mormon.org.
"When people know you're a Mormon, they tend to watch you a little more to see if you actually practice all the rules," said Nick Whitaker, a missionary from Utah currently serving in Boone. "It's no secret that we're a little bit stricter than all the other churches and religions out there."
In popular culture today, Latter-day Saints are portrayed in reality television shows, such as "Sister Wives," promoting the polygamist stereotype, among others.
"There's a lot of misinterpretations that people develop," LaDue said. "Things just get flip-flopped and stuff, but we really like it when people come to us with questions, because it gives us an opportunity to let them know exactly who we are and possibly gain interest from them. It's an open door to ask questions, so we're glad for them."
Members in the mountains 
Mormons are far from being highly represented in the South, compared to a state such as Utah, where the Mormon faith makes up 58 percent of the religious composition, according to the Pew Research Center.
North Carolina, on the other hand, contains less than half of a percent in its demographic.
For members from the more populous Mormon areas out west, this change in numbers was noticeable. But one member and student at Appalachian who is originally from Utah doesn't mind the difference.
"I've noticed there's a lot of people on campus who when they hear I'm from Utah, if they have any idea, they usually ask if I'm a Mormon and then usually have some questions for me," said Nate Powell, 34, who is a junior appropriate technology major with a wife and two children. "I found that it's been a good way to help to answer questions that people have, because unfortunately, the Mormon church seems to have a whole wide range of understanding within larger society."
For those in LDSSA who are not from highly concentrated areas of Latter-day Saints members, they still find community within the small numbers.
"Moving up here, I became more involved in the church just because of the fellowship that is here in this ward," said McIver, who transferred from Wake Technical Community College in fall 2013 and is not an official member of the church. "We're all very close and it just makes you really want to come to church because you want to see those people, you want to see your friends and it makes it all that easier."
Re-establishing the LDSSA
The LDSSA had not been an officially recognized club for a few years before LaDue, McIver, Spaulding and former president Megan Milot, who now attends Brigham Young University, worked to establish the club's constitution and complete all other necessary paperwork.
Since the start of this semester, the LDSSA has approximately 15 official members, which include LaDue, McIver and Erin Greenwood, another vice president and freshman elementary education major. With unofficial members and those who participate from time to time, the number is between 20 and 25.
The organization has had more time this semester than last to focus on building the club and promoting awareness and recognition on campus.
"If you take that idea, what they're really doing is taking all the good that they've created this semester and solidifying it," Spaulding said. "We're setting a precedent and turning that into something more regular."
Scott Jensen, the bishop, or leader, of the Boone Ward, which is a term for the congregation, said the members that make up the LDSSA have wonderful potential.
"They're ahead of us in so many ways, and I'm not just talking about academically," he said. "But some of them are spiritually and socially ahead of us. They're thinking already for themselves, they're reaching out and wanting to help other people."
In Part Two: Members of the LDSSA will share their stories of how they were led to the campus chapter and the church as a whole, as well as situations they have faced along the way.
Story & Photo: Michael Bragg, Editor-in-Chief