First annual 5K walk/run for breast cancer
On Oct. 28 at 9 a.m., community members will get together to participate in the first annual High Country Walk/Run for Breast Cancer. This event starts and finishes at the American Legion in Blowing Rock and includes a 5K run event, with options for a 1K, 2K and 3K walk.
The High Country Breast Cancer Foundation supports breast cancer patients, survivors and their families in the High Country of North Carolina. They provide emotional and financial support to men and women who are fighting breast cancer.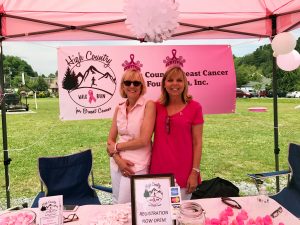 The foundation's president and founder is Irene Sawyer. She created the organization in 2017 in hopes of getting the community involved in the efforts to help those who need it during and after breast cancer.
"We have several goals; our initial goal is to bring an event together that honors breast cancer survivors but more importantly provide money and support to breast cancer survivors or those who have a need," Sawyer said.
One hundred percent of all the funds raised from this event will go to local breast cancer survivors. This money made by the community will stay in the community, so by going to this event, participants truly are supporting each other.
Over 150 walkers are signed up and ready to go, 50 away from the goal of 200 walkers. Sign-ups for adults cost $20, children (ages 5-17) cost $10 and ages 5 and under are free. Signing up with a group of 10 decreases prices to $18 a person, and a group of 15 is $15 a person.
Participants are encouraged to dress up for the walk/run in a costume, since the town's Halloween festival follows the event.
The High Country Walk/Run has a financial goal of $20,000, and is close to reaching it. The workers of the foundation work on a voluntary base and no one gets a salary. This ensures that all the money raised will directly go back into the community.
"It is important when you are fighting cancer to have the support of your community," Sawyer said. "It will spotlight people and businesses in the High Country."
CORRECTION: An earlier version of this article stated that the High Country Walk/Run had a financial goal of $200,000. Its financial goal was $20,000. This change was made on Nov. 3. 
Story By: Georgia Walker, A&E Reporter
Courtesy photos